Visit the store in Copenhagen.
PLEASE NOTE THAT FROM 8 MARCH 2023 WE HAVE MOVED TO NEW PREMISES IN FREDERIKSBORGGADE 31, 1360 KÖBENHAVN K.
Mondo Kaos is located in Frederiksborggade in the heart of Copenhagen K. between Nørreport and the lakes. We specialize in vintage style clothing from carefully selected brands from around the world. We love the flattering style that creates beautiful and well-fitting designs for all women inspired by fashion from especially 1940s og 1950s. We offer quality clothing that highlights the female figure, regardless of body type and current fashion trends.
Mondo Kaos has a large selection of clothes in the beautiful retro style. As soon as you enter the store, an experience of the special awaits you. We have designed the store so that you enter a feminine and cozy retro universe, perfect as a background and inspiration for your shopping trip.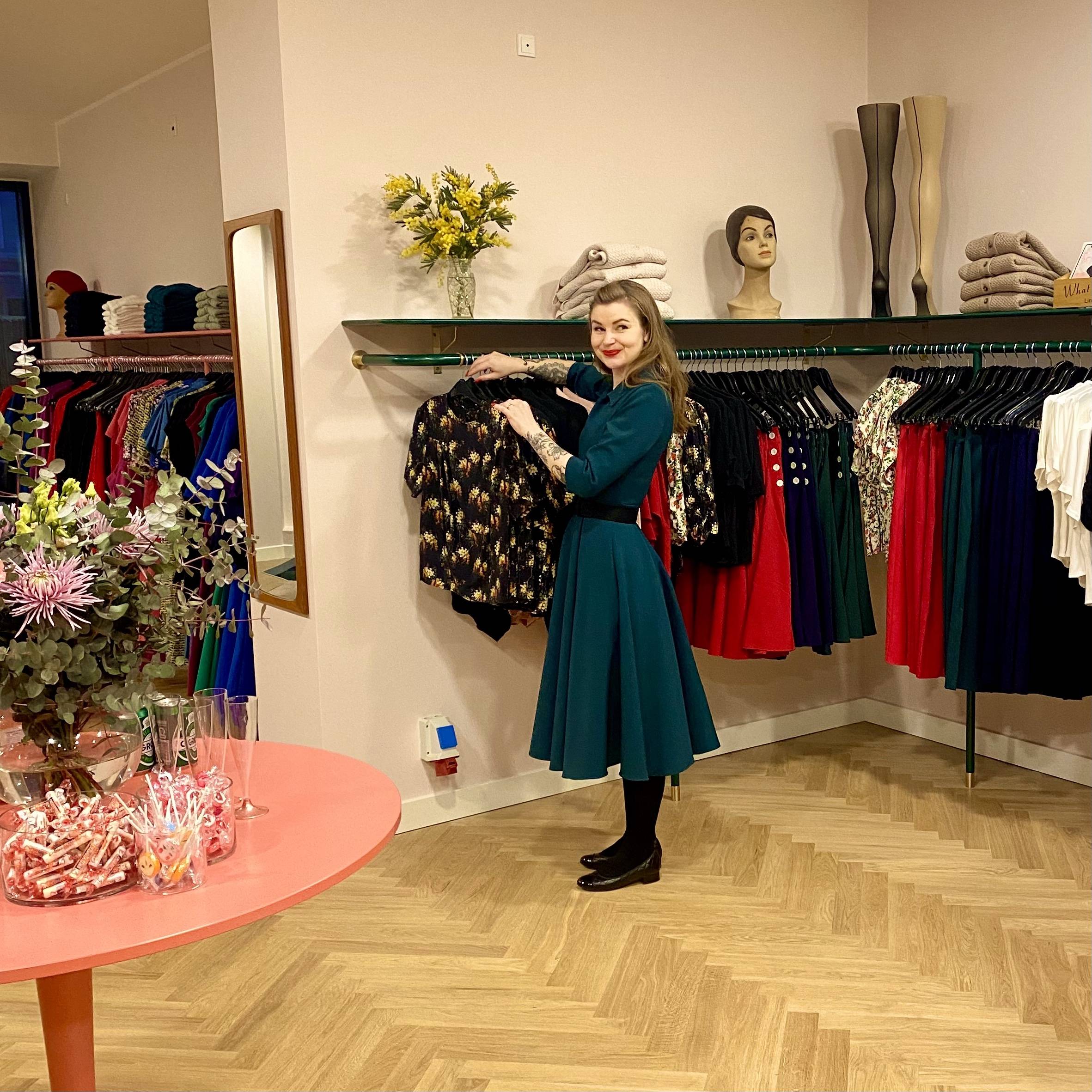 We carry both well-known and lesser-known quality brands from home and abroad, and we are always looking for new exclusive brands that we can present to our customers. Common to our brands is that they are passionate about designing clothes in vintage style, and that they do it with great love for the details. All brands are also relatively small and deliver to order, ie. that they do not overproduce.
Among the many wonderful brands, you can e.g. find classics such as Emmy Design, The House of Foxy, The Seamstress of Bloomsbury, our own in-house brand Daisy Dapper and the smaller 'niche' brands that you only find with us such as German Grünten Mode and Californian Mischief Made. Our focus is always on quality and the feminine fit, with room for shapes as well as a focus on the flattering hourglass figure. Several times a year we go to fairs because we think it's exciting to go in search of new brands and styles that fit into Mondo Kaos-universe's vintage style. And of course because we like to feel the products with our own hands, to ensure that we offer our customers the best products within the retro universe.
In the store you will meet our store manager and day-to-day manager, Julie. In addition to Julie, Jeanette also works in the shop, as do Ellen, Margrete & Marianne, who are all ready to help you. Regardless of who serves you, you can be sure of excellent service as everyone is committed to giving you the best experience and service with the focus on personal contact. We want to provide competent and present customer service so that you get exactly the guidance you need.

These are the same girls who are responsible for sending your goods from the webshop, and they make a virtue out of you having to feel the same service and joy as if you had been in the store personally.
I Mondo Kaos we always strive to provide the best service in the city and be present from start to finish of the buying experience.
We believe that the best customer experience is based on competent and personal customer service, with you in focus.
Some customers find that they need more guidance and inspiration than others, and we try to meet you where you are, whether you want to be allowed to look around on your own or have our help for inspiration.
Although we can not provide exactly the same experience to our online customers, we try to help i.a. via email correspondence, where we will try to answer all the questions you should have.
The staff in Mondo Kaos goes to work every day with the mindset of providing the optimal customer experience, and this is what keeps us focused on continuing our mission: to offer quality clothing that accentuates the female figure, regardless of body type and current fashion trends.