Vintage all the way? The best of 'before-time'
'Vintage style - not vintage values'
Or put in Danish: vintage style yes thank you - no thank you for living as before. This is the motto from us who love the vintage style. None of us want to go back to the 1950s in terms of time travel, if it means giving up e.g. the freedom and equality that our mothers and grandmothers have fought for, and have come so far with. - Thank you!
When we are crazy about today vintage clothes the style is also about not wanting to jump on the fashion bandwagon, and instead follow the style your body looks best in, and still have delicious clothing which shows a feminine figure. It's about having clothing in good quality and something you want to have for a long time.
Having said all that, there are also things we might miss from the past. In fact, the corona pandemic and the shutdown of society and our everyday lives as we knew it have put the spotlight on many of these things. A little too much jogging clothes makes us want to, and makes us appreciate, beautiful clothes and styling. The daily contact to close friends and family is in focus, etc. Here is a small list of things that we actually think might well have a little renaissance today.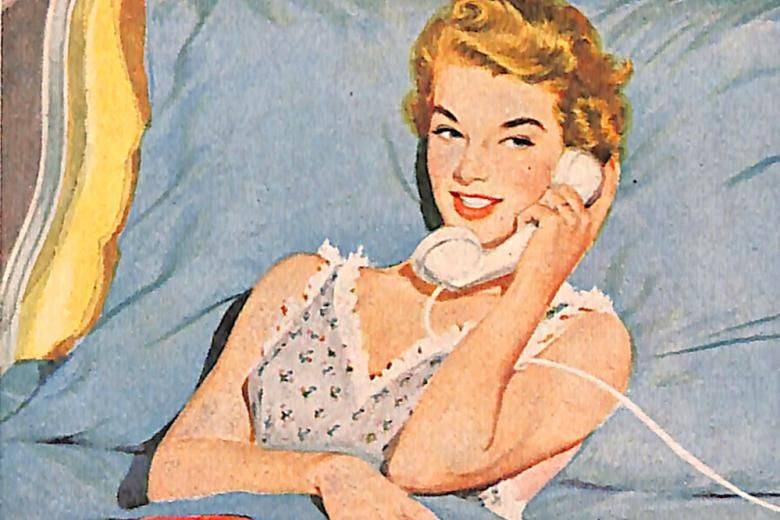 Here during the corona shutdown, facetime and perhaps even 'old-fashioned' phone calls have gained momentum. Long talk about this and that, not just a quick text message, but talking together about both the essential and the completely irrelevant. It is limited how much happens when everything is closed and you work from home. Are you going to stick to this tradition, or is it completely out now that we have to go out again and see more people?
Aren't we also just a little crazy about the old-fashioned phone call, where you can not necessarily see each other, and therefore can also just lie and laze like the lady here?
Yes, just check Marilyn out. How incredibly classy is that right? Wearing matching sets is a thing from before that we would love to come back to. With a snap, you have an overall and delicious (vintage) look. The sets can be similar colors, but they can also be in similar patterns, e.g. dots or dice.
If you e.g. is used to going in dress, can a solid color set be a way to start going in pants og blouse on, and conversely if you are not used to dresses, these solid color sets may be reminiscent of one dress. It is also smart that just because one part gets a little dirty, you do not need to wash both.
Wear contrasting accessories for yours vintage clothes such as. our earrings and bracelets from Rock it Rosie, to give your chosen color even more style!
Below you see Nanna in wood beautiful sets of clothes in teal, red and navy.
Always check out our beautiful trousers, shorts and skirts that we have in a multitude of colors, and which you can therefore easily match with a delicious top and get a super stylish vintage clothes set.
Product not found. Have you uploaded products to your store?
3. 'Old-fashioned' activities
Entertainment, hobbies and activities took place together. In a time without computers, mobiles and Netflix, one had more time to do other things together or alone. One often had to activate the imagination to invent things to do. Play games, dance, read books, learn to play instruments or sew and knit. In other words, the time that we often spend on the screen today.
After a long day, it can be nice to sit down with a good series, but the satisfaction of having 'accomplished' something such as finishing the book, the game, etc. is also great, at least once in a while.
Television, Gregory Peck and Audrey Hepburn pass the time playing cards during the filming of Roman Holiday.
4. Sexy - the old fashioned way
Yes, back then how sexy did not mean exposing as much as possible but showing curves. Of course, this also applies to ours swimwear. Our swimwear is from Esther Williams and in the spirit of the 1940s and 1950s, the swimwear has light support which helps to show your beautiful shapes. We just say it: it's 100 times sexier than a stamp bikini.

We're sexy swimwear in many colors and patterns so you are sure to find just what suits you. Of course, we also have both the gorgeous swimsuit and a bikini with a high-waisted bottom.
Style it as a top with the beautiful shorts and skirts over, on the way to and from the beach.
To make oneself nice when going out. Are we a little tired of the jogging set and the no-make-up look? Isn't it super delicious to make yourself nice, even when you just go shopping, or meet friends over a quick cup of coffee?
It doesn't really take that much extra, and it makes everyone happy, including oneself. You have made an effort, and people are feeling it. Sometimes it's just a matter of putting on a dress and nice shoes instead of just doing the same thing as yesterday.
If it can be difficult to remember the good outfits you get made from time to time, you can take pictures and save them on your mobile in a folder, then it is easy to find a nice look again quickly.

That time everyone actually learned to dance!
Such a couple dance with real steps, so when you went out and danced you could have fun with the dances you had learned. Here, too, we just mention the clothes. So, once to be back to such a swing ball, where you could dance and wear your finest swing dress… You would love to try it.
Luckily, there are still clubs and dance schools for that kind of thing, but maybe it's not quite the same.
What things from the past, do you wish would occasionally come back?
The best greetings,
Team Mondo Kaos
---
1 comments
---
---