Valentine's Day ❤️ How did it all start?
Valentine's Day tradition
- And all the beautiful red clothes to celebrate love in.
Valentine's Day in Denmark is a relatively new custom that first appeared in the 1990s. In fact, the florists had already in the 1950s tried to introduce Valentine's Day in Denmark, but without success. In the 1990s, on the other hand, there was a lot of focus on big romantic weddings, wedding planners and RomComs, and then it became more well-liked to exhibit his love to the outside world than it had been before.

It was Netto who, as the first store in Denmark, introduced the love theme up to Valentine's Day. That was just in the early 1990s. The tradition has grown larger since then, not least it has been helped forward by the various Social Media platforms.
We here know how to write nice love letters to each other from the tradition of Gækkebreve, which were originally letters to someone you loved, or who you just wanted to feel comfortable with. Since this custom now more or less only belongs to children, Valentin's card may also fit in as a new tradition for love letters.
February and the Feast of Fertility
The first fertility festival in February was called Lupercalia, and was a Roman tradition honoring Faunus, the god of agriculture, and Rome's founders Romulus and Remus. This was celebrated on the 15th of February. In addition, there are also pagan (Nordic) traditions in February which were about fertility and about chasing the dark on the run.
It is a bit bizarre in today's eyes that in both traditions there is something about "beating" women. In the Roman tradition, a sacrificial goat's skin is to help the women to greater fertility and with us it has been branches with small budding buds, which we recognize in the Shrove Tuesday rice. However, this does not suggest that it has been unpleasant.
Saint Valentine and Shakespeare's hammered
That today we call the day Valentine's day is linked to a Catholic saint.
But there were actually many different Skt. Valentin. A St. Valentin lived in the 300s and married young couples, although the young men had otherwise been deprived of their right to marry, as Emperor Claudius had got the idea that unmarried young men were better soldiers. St. Valentin defied the emperor, married the young couple and paid with his life.
In total, however, there are 13 different saints with that name, so it is difficult to say exactly who is referred to.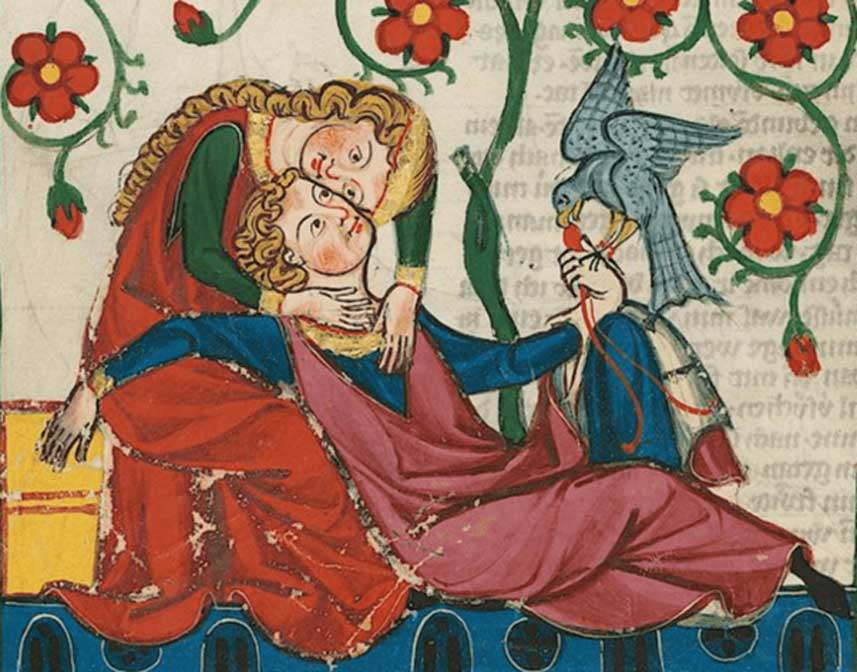 From medieval Europe we know that February 14 was considered the beginning of the birds' mating season, and perhaps it was against this background that Geoffrey Chaucer in 1375 wrote the poem "Parliament of Foules," which had the text "For this was sent on Seynt Valentine's. day / Whan every foul cometh ther to choose his mate. " (It was sent on Saint Valentine's Day, at which time every single bird comes there to choose its mate)
It seems that the tradition from there has slowly crept in among nobles and even Henry V should have sent a Valentine's poem to Catherine of Valois.
Valentine's day is also mentioned in Hamlet (1600) when Ofelia says:
"Tomorrow is Saint Valentine's Day,
in the glow of dawn,
and I'm the maiden standing by your window,
will be your heartbeat.
Then he got up, put on clothes
and opened his chamber door;
and not like a maiden she went from there,
who was otherwise a virgin before. "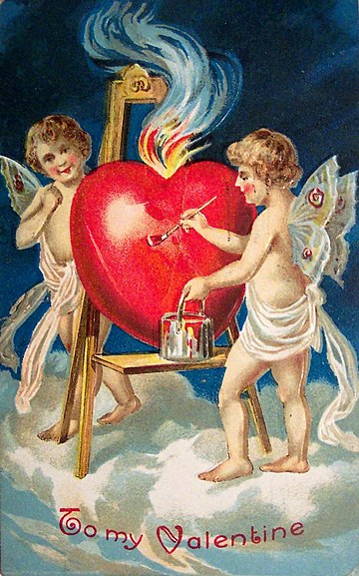 The first Valentine's cards
In the 1600th century the custom spread with small Valentine's letters with drawings and poems and in the 1700th century the tradition continued all the way into society, and small gifts and messages were given on Valentines, even keys, which symbolized keys to the heart, and which we today recognizes as the love locks one attaches to bridges around the world.

The first decided Valentine's cards came as early as the 18th century. At that time, they made the cards themselves, and they slowly developed the technique into a kind of collage or 'scrap' technique. You might have collected pictures from magazines or glossy pictures and put them together into fine cards, and later you could buy hearts, lace edges, cards with verses and many similar things, which you could then create a personal Valentine's card. It was the forerunner of the printed Valentine's card.
From the middle of the 1800th century, you see the very first printed Valentine's cards, and today it is estimated that in the USA, where the tradition is greatest, about 190 million Valentine's cards are sent every year, which are only surpassed by the season for Christmas cards.
Dresses for Valentine's Day in Mondo Kaos.
I Mondo Kaos we usually show you the beautiful red ones in the lead up to Valentine's Day dresses which is appropriate for the feast of love. And then we usually celebrate with a discount code, which is our 'Valentine's gift' for you, so you can dress in the red dresses or other red clothes for Valentine's date, or how you now choose to celebrate the day.

Whether you are celebrating Valentine's Day at a restaurant or bar and need a nice and festive red dress, maybe even one cocktail dress, or if you need a more casual style, such as a red one A-line dress, we have a large selection of red clothes.
In the shop, of course, we are, as always, ready to help you find just your Valentine's day look, and even though it is officially tomorrow the 14th, it's Valentine's day, love can be celebrated whenever you want. "Everyday is Valentine's day" ...
Happy Valentine's Day,
From Team Mondo Kaos ❤️
Thanks to Katrine @frkcarlsson which is our beautiful Valentine's model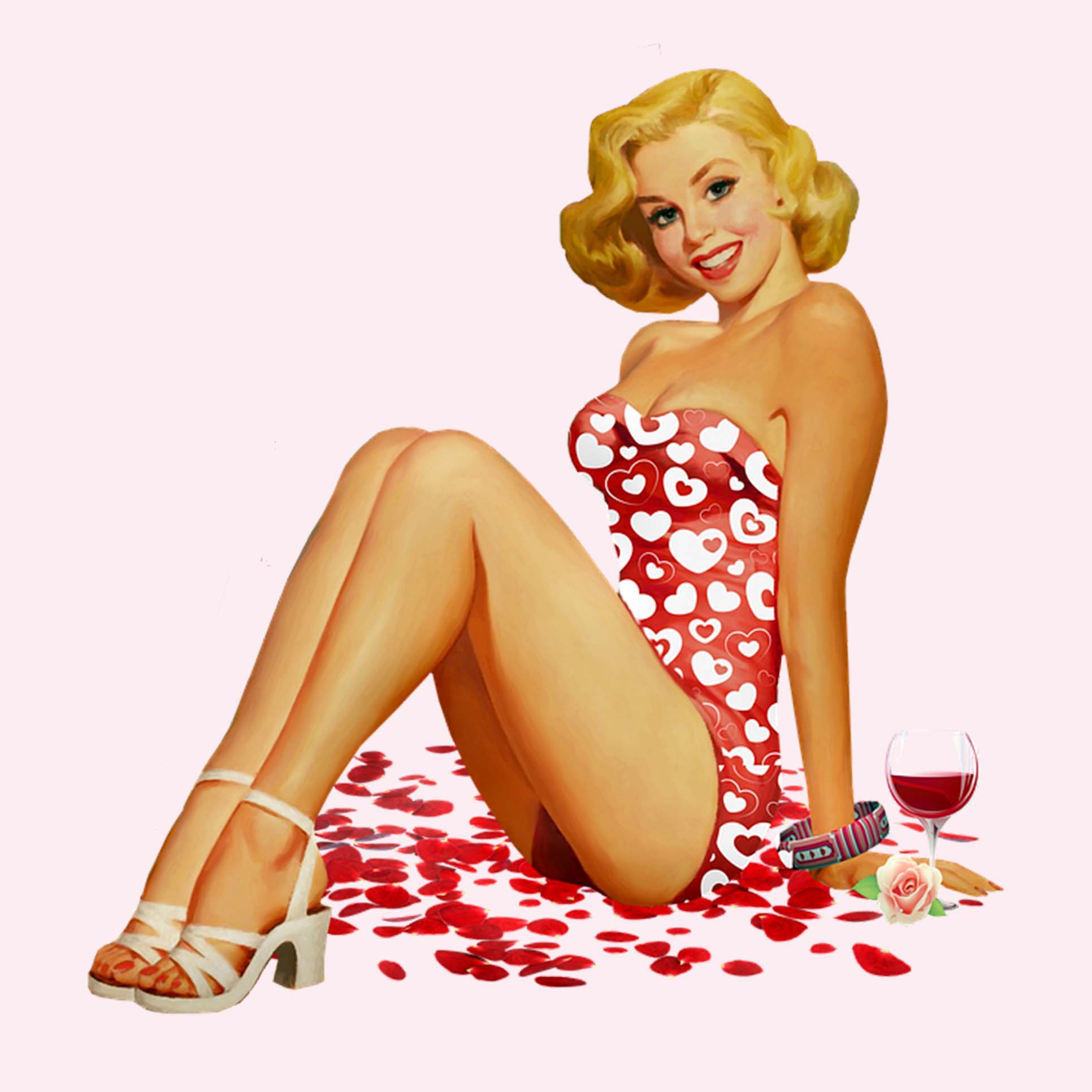 ---