Style with tartan and tartan
Is there a more autumnal pattern than tartan?

Plaid or tartan often comes in lovely woven fabrics that feel soft and warm against the skin. You can almost have the feeling of wrapping yourself in a lovely blanket when you wear clothes made in tartan. The colors are dark and autumnal, with highlights of e.g. red or ochre, and check just fits so well with the entire autumn palette of darker, warm and burnt colours.
Plus, classic tartan feels so truly vintage. If you close your eyes, you can quickly see the checkered 1940s skirt, the checkered swing dresses of the 1950s or the iconic red check of the 60s. It is therefore easy to create a wonderful vintage outfit when you use the beautiful tartan checks.
Today on the blog we show you the new ones goods in checkers and scotches and some tips on how to style the beautiful checks, vintage style!
Is it called plaid or tartan?
Dear child has many names and we have dug a little into the history of the Scottish checkers.
We all know that tartan originates from Scotland and that all Scottish clans have their own unique tartan weave. Or what? It is actually a truth with many modifications. You might as well say that every Scotsman has a kilt and a bagpipe... In fact, finds have been made from China to central Europe and Scandinavia of over 3000-year-old tartan woven fabrics. It is many thousands of years before you start to associate these checks with the Scots.
It is a bit funny that the oldest checkered fabric found in Great Britain in Scotland - found stuffed into a jar to hold 2000 Roman coins - is no more Scottish than the fact that at the same time a similar weave has been found in Denmark, in Jutland!
Perhaps the propaganda was not good enough here in Denmark, otherwise the famous tern might have been called Jysktern today.
The history of Scottish clans and specific checkers is most likely a myth, and a later invented tradition. There may well have been various weavers and weaves around the country, but there is no evidence that Scottish clans were recognized by wearing their own specific checks.
It was probably the national romanticism that prevailed throughout Europe in the 19th century that caused the Scots to start creating this myth. The Scottish highland romance was staged by, among others, Sir Walter Scott (including Rob Roy and Ivanhoe), and made tartan something particularly Scottish, and even a national costume.

And it is from there that today we associate these specific checks with Scotland and call them Scottish checks, while tartan is the word that describes the distinctive weave, and is the English term.
Autumn dresses in vintage tartan and tartan
Tartan we associate, because of the traditional woven form, with warm clothes. Autumn's checks can be the classic red, or blue and green. Towards winter we find that gray and black and white checks are creeping in. It is clear that we can always wear whatever checks we want, but the checkered dresses and skirts we have in the store right now are, for example, the beautiful Hourglass dress from The Pretty Dress Company, which just comes in the nice red check, just like you will find it in blue and green plaid.


The Hourglass dress is one of our absolute bestsellers because it just fits so well. The Hourglass swing dress is beautiful for everyday styled, for example, with a plain cardigan from Emmy or Palava.

However, the dresses are also perfect for parties.
Wear them with a petticoat underneath if you want to be extra special, and with high heels. There is also plenty of room in the neckline to match a nice necklace.
There are also the beautiful Elsie swing dresses which are perfect with a sweater underneath. Use it, for example, with a plain boatneck shirt underneath, or the nice new Mina. It is clear that a nice vintage style shirt from Bloomsbury will also look elegant and create a nice vintage look.

A little preview: You can look forward to both dresses from Pretty Dress Company and Zoe Vine. The Hepburn swing dress in the fine checks is on its way. It has a higher boatcut neckline and ¾ length sleeves.
From Zoe Vine, comes the nice navy swing dress Katie with checkered check. The Katie dress is on its way and will arrive soon.
Looking for a pencil plaid dresses, we have the Jenny dress; a really beautiful dress that fits the body, and with large full sleeves that give this dress lots of character.

Style your checked vintage skirt
From Miss Candyfloss we get two different ones plaid skirts, a swing skirt and a pencil skirt.

The swing skirt comes in beige/white/black with burgundy red stripes and checks, a really pretty skirt that goes with most things. Style with basic colors such as beige, navy, red or black.
The swing skirt will also be beautiful with a shirt, or match it with a tight-fitting t-shirt and a cardigan over it. Here, Jeanette has styled with the purple boatneck top from Very Cherry.


The pencil skirt is right on the stairs, and can be seen below. It is more discreet in navy with purple striped checks. Wear it with a matching Estelle shirt from Heart of Haute or shirts from Bloomsbury or House of Foxy. The pencil skirt is also nice with the new Mina from Very Cherry, or knitted blouses from Emmy Design.
Checkers from Unique Vintage
If you are more into the simple dice we also just got the fantastic Devon swing dress with sleeves in both black and burgundy with white striped checkered.
In the same more discreet checks, you will also find high-waisted trousers in the same colors as the Devon dresses and a pair of our popular Thelma suspender trousers in navy.

The check skirt from Miss Candyfloss and the blue check dress from Zoe Vine are previews, coming to the store soon
Style vintage checks with items from your own wardrobe
After all, we like clothes, which is why most of us already have quite a few clothes in our wardrobes. Perhaps you have one of our fine checkered autumn coats/cloaks from previous years. Checks are actually really nice to wear with other checks in coordinated amounts. You can also choose to wear accessories such as a handbag, a scarf or other checkers with yours checked vintage dress.
If you're not used to going with patterns and think checks are a little wild, style with matching tones so they flow into the checks and tone down the look a bit, or choose the simpler checks, like the plaid checks from Unique Vintage.
We hope you will wear some beautiful ones checkered outfits this fall.
Autumn greetings,
Team Mondo Kaos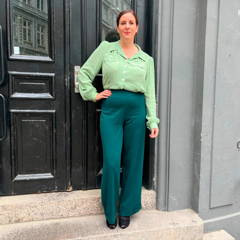 Style your vintage trousers
That's what it should be about today; all the beautiful ones vintage style pants, their fit and how to best style your retro trousers according to the look you want.

---