Style your vintage style trousers
If you are used to wearing a vintage style dress and skirt, you may sometimes have to get used to wearing vintage style pants, just as the opposite can be the case, but there are guaranteed trousers that suit everyone, you just have to find the right pair and understand how to style them in the right way.

That's what it should be about today; all the beautiful ones vintage style pants, their fit and how to best style your retro trousers according to the look you want.
As you can read a lot more about in this blog post, trousers for women are a fairly new thing in Western fashion history.

Palazzo pants in the 1930s
Some of the first trousers for women to become more widespread are the palazzo trousers with the wide legs first seen in the 1920s and 30s.
They were first used on the Riviera by the young and rich, particularly Americans, who came to Europe during the Prohibition era in the United States to party. Pants were also dubbed Beach Pajamas. It was seen as a kind of leisure wear, and the legs were so wide that you might think it was a long skirt.
The trousers also came out in homes, i.a. as patterns in the popular sewing magazines, where trousers were still called 'separate'.
We have the most beautiful Emmy Palazzo trousers, i.a. the striped Playful Palazzo, which fits right in with the 1930s aesthetic.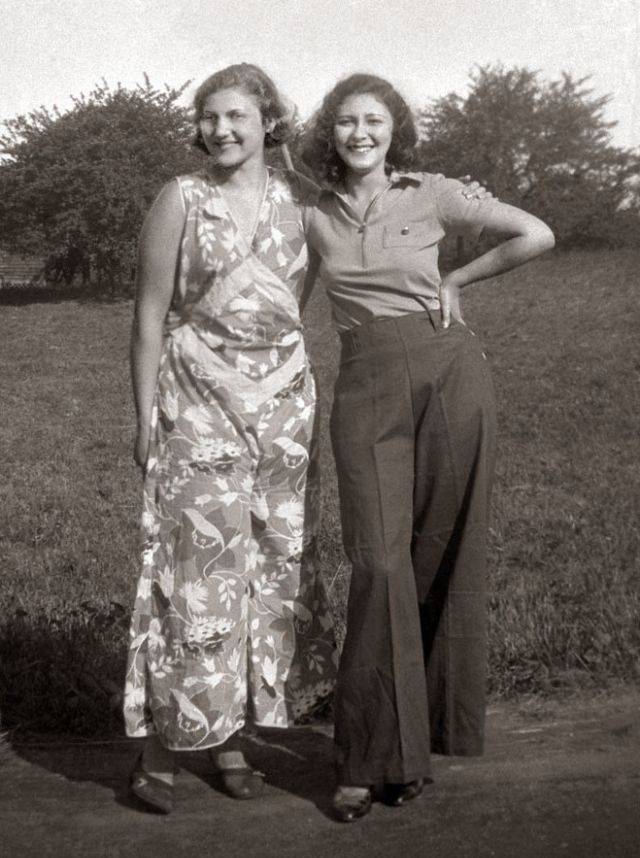 From The House of Foxy we got the popular ones Swing and Hepburn trousers back home. It's beautiful vintage style pants with classically wide legs, i.e. not quite as wide as in the palazzo trousers. The trouser cut is a particular 1940s look, where it was made popular by famous women and Hollywood actresses.
Capris and slacks 1950s pants
Unlike the wide leg trousers, slacks and capris are figure-hugging with slim carrot legs and a typical 1950s model.
We have got some beautiful capris from Unique Vintage and Smak Parlor and from Emmy Design we have the beautiful slacks in linen. If necessary, smoke them up for a summery capri style.
In the 1950s, slacks and capri pants were introduced! The capri pants were invented by the designer Sonja de Lennart (pictured TV) who allegedly, during her annual Capri holidays, found the idea of ​​cutting off her slacks so she could soak without getting the pants wet. They were launched in her Capri collection in 1948.
It is certain that the Capri trousers are a real summer trouser style. It's a tight-fitting pant with a high waist, slim legs, which ends mid-calf. The pants became ultra modern when Emilio Pucci started selling the style in his store on Capri, and not least when Audrey Hepburn wore them in the movie Sabrina, and subsequently made them her personal trouser style.
There are of course also vintage style jeans for women, we have written about that here og here.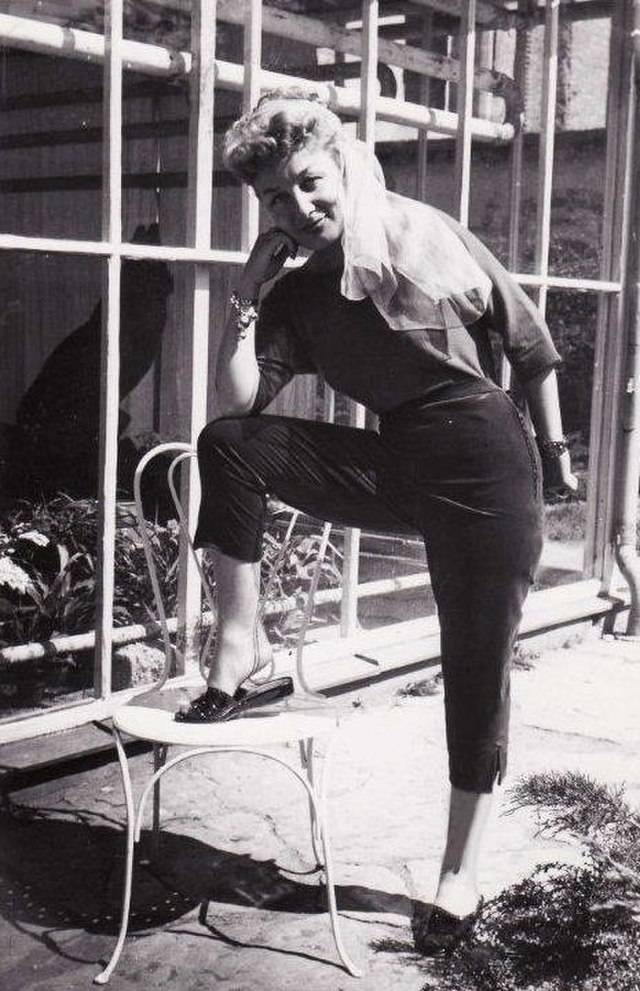 What should I think about when choosing vintage style trousers?
Same for all ours vintage trousers-styles is that they are high-waisted and sit in the natural waist, therefore there are also certain things worth thinking about when choosing your trousers to make them look their best.

1. Make sure the length fits. If the trousers are too long or short, see if there is an option to put them up or down, many of our trousers have that option, and it does a lot for the look.
2. For the best look, wear your tops and shirts tucked into your pants. In this way, the focus is on the waist, and you get extra long legs. See our large selection here shirts and tops here.
3. You can also wear short tops for the style. We have several shorter shirts that also go beautifully with the high-waisted trousers. Greta, Helen or Ellie which are tied at the front of the stomach or the fine Peasant style are good examples of shirts that sit on or just above the natural waist, and are a beautiful summer look for your trousers.
4. For a classic vintage look, your top can be looser in it, e.g. in a shirt look and for a more modern look, you can wear a tight-fitting top with a little stretch for your trousers.
5. When you use your vintage pants later in the year, you can advantageously choose a close-fitting knit blouse for your wide vintage trousers for a beautiful 1940s-style look.
What shoes go with my vintage style pants?
Of course, you can wear any shoe, from sneakers to stilettos. A modern look for yours vintage style pants best achieved by mixing and matching, but if you're going for a specific look, here's a little guideline.

Palazzo: As described, palazzo trousers belong in the 1930s and if you want a look suitable for the trousers you must go for a shoe or sandal with a medium high heel. The heel, like the shoe, should be elegant and narrow in appearance. It also suits the wide pant legs beautifully to get a little extra height.
Hepburn and swing pants: For your 1940s style trousers you can stay vintage looking by sticking to either t-strap heels which will make your legs appear even longer or a classic mens style oxford which can give you the Katherine Hepburn 1940s look . Shoes with a higher heel should have a stronger heel here.
Slacks and capris: the obvious choice is flat, open shoes and ballerinas with a low heel. It creates the typical 1950s summer look, and lengthens the leg optically, which is smart when the pants is cut in the middle of the leg. Another 50s trend was the higher heels. So for this look, you can also opt for high-heeled stilettos, which is another way to add length.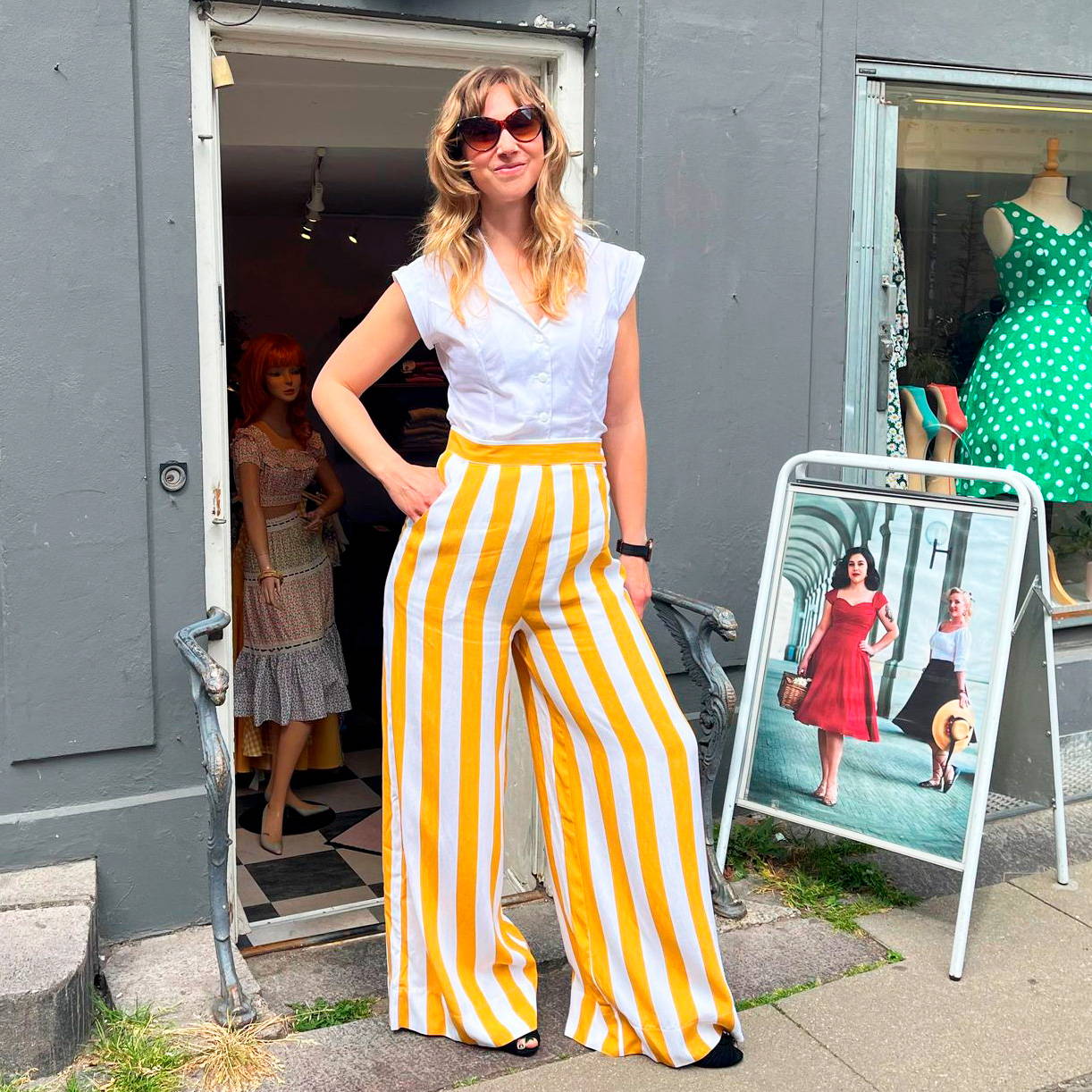 Summer style your vintage trousers
On a hot summer day, you can easily wear it vintage style pants. As I said, most of ours have vintage style pants lots of width that gives air to the legs. In addition, both Emmy's Playful Palazzo and the trousers from House of Foxy are in a viscose blend, which makes them easy to use even on warm days.

Capri pants are the ultimate vintage summer pants, and a good alternative if you don't like shorts, and slacks from Emmy are in cool and light linen.
If you want to style with summer vibes, you can choose crop tops, which do not go down into the trousers, but end at the natural waist.
You can also choose a maritime look by sticking to navy, red and white, or stripes.
Summer patterns such as summer flowers, gingham checks in bright colors or pastels also help to give a summery look.
If you are heading to the beach, you can also choose to wear a bathing suit instead of a top.
Summer is the time for fun and colorful accessories. You can style your trouser look in summer style with, for example, hair flowers. You can also use scarves in your hair or hair bands. A summery bag, for example in straw, also helps to add lots of summer style to your look.

Strong colors on e.g. a belt or earrings are another way to make your look even more summery.
Stop by and let us help you find vintage style pants which suits you and gives you new ideas to style your vintage wardrobe.
Summer greetings,
Team Mondo Kaos
---