Retro and vintage denim and jeans in Mondo Kaos
Today, it is completely unthinkable not to find jeans in the street scene, and it's strange to imagine that it was actually only as late as the 1980s and 1990s that jeans became a completely common thing to wear for both men and women. It's also funny to think that we at home until not too long ago said jeans, and that the name jeans first came about around the turn of the millennium. With cowboy pants you still show the affiliation, you say 'those were the pants cowboys started wearing a long time ago in the USA'. Today it has shorter and more international 'jeans'won over cowboy pants, but in a way you can probably say it is cowboy pants and cowboy dresses we will show you today here on the blog.

Jeans from the beginning to now
If you want to read more about the history behind jeans through the ages, you can go over to this previous blog post and read more there.

We wrote about how jeans for women kept their entry, via female 'ranch' workers who took over jeans made for men, as they were ideal for the physically demanding work on the farms in the USA. From there, jeans became popular for hard physical / dirty work, especially during World War II during the absence of men, when women began working in factories and in industry. Of course, we know the iconic image of Rosie the Riveter in the denim pantsuit.


Today, it's about the 1950s fascination with jeans and how we can wear them classic 50s jeans in our vintage style, and style for a nice 1950s look.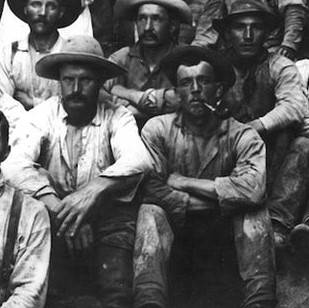 Is there a difference between denim and jeans?
Have you ever wondered that you sometimes see the word denim and sometimes see jeans, about the same kind of products? Denim comes originally from 'de Nîme' ie from Nimes in France where they were specially woven denim fabric came from. The fabric from France was originally called 'serge', but in the US it became denim.
It was a grocer from the city of Genoa in Italy who bought the fabric and sold it in the United States where the first jeans were made. From Genoa, therefore, comes the word jeans.

Today, it is popular to use the word jeans about a pair of pants while denim used more about the drug. And while we do not use denim about a single pair of 'cowboy pants', we in turn use both jeans and denim to describe both vintage style dresses and vintage style trouser suits made in the rugged blue cotton fabric.
It was after the war that women became more accustomed to wearing trousers, and although trousers gradually gained ground, there was still a long way to go before jeans could be accepted as everyday clothing. Pants were typically so-called slacks or capris, and they were always closed at the side.

However, jeans became a picture of youth rebellion and the films Wild One from 1953 and Wild Blood (Rebel without a Cause) from 1955 with icons like Marlon Brando and James Dean made jeans the standard attire for a new type of youth.
Jeans in the 50s typically took the usual form, namely high-waisted slacks, and carrot legs. However, due to the thicker and heavier fabric, molds became more pronounced with more legroom than the typical slacks. Very young women and teenagers typically wore their jeans almost baggy, while the slightly older ones preferred a slightly more fit look with defined waistband.
All things western were also super popular, which fit perfectly with the fact that jeans became so modern. With jeans, it meant adding belt straps, belts, the famous 'western' stitching on the back, and the stitching was in a contrasting light color.
New vintage denim brand Rumble59
We are always looking for new styles that we think fit well in the store, and with Rumble59 we have just found vintage style denim and jeans styles for the modern vintage lover. From Rumble59 this time we have taken home 2 skirts, 2 dresses and a trouser suit. Those two denim dresses as well as the one denim skirt has the absolutely classic A-line shape, which fits perfectly in the vintage style. They have the right Rockabilly look, they are cool and everyday on the delicious denim manner. Most styles were pretty much sold out after a few hours, so of course we are both very excited that you have taken it to you, but of course flux ordered more, so most of it is filled up again, but keep an eye on the shop, the newsletter and our stories on instagram, where we give notice as soon as sold out styles land again.

Jeans in vintage style from the best retro brands
It is clear that we cannot settle for one denim brand. We have both Lady K Loves and Freddies of Pinewood with the many fantastic jeans, in different 50s styles.
Freddies of Pinewood gives us beautiful jeans in vintage style as well as pantsuits and overalls. With Freddies of Pinewood, you can also find the classic jeans without stretch pure and strong cotton.
Lady K Loves also has both favorite jeans and the best-selling skirt Wanda with buttons down the front. Lady K Loves Jeans typically have a little stretch, so you achieve the desired vintage look, but also the modern feel. And with stretching, it might also be a little easier to find a size that fits.
What vintage look should your jeans have?
The typical 50s look is the high waist jeans look with side closure. The legs are a bit loose in it, and should it be true vintage style, the pants should be tucked up to somewhere between the ankle and the middle of the calf.

We have both vintage style jeans with the classic 'men' closure ', namely the zipper at the front, but we also have jeans with the old lady's closure at the side. If you want a little different jeans look, or go all-in on vintage denim, it's just the style for you.
The raw trouser suits are super nice, and are perfect as a cool everyday look. You can easily style a trouser suit in jeans look up or down. Snuggle up your legs, put on nice heels and a bling brooch, and you have a gorgeous and feminine retro jeans look. You can also add a small scarf, perhaps in the classic red / white / black shawl pattern, which gives a nice hint to the cowgirl / western look, without being too much. Boots and the beret are also a great option for your trouser suit.
Overalls, bib dress and denim skirt
To denim overalls, denim bib dresses og denim skirts you obviously need to wear a top underneath. You can wear a solid color jersey sweater, or a nice simple shirt. Focus on the bib by adding a brooch.

The beautiful ones denim skirts give the perfect 50s look. The always super dressy and flattering A-line cut is excellent for everyday life. The two different pencil styles Wanda from Lady K Loves and the new pencil denim skirt from Rumble59, have a slightly more cool 50s look, and can be worn for both work and a trip in the city. Common to all three is that you can of course wear them with any of your favorite tops, but if you want to focus on 50s cool, you can advantageously wear them with one of our retro print T-shirts or a tight-fitting top. In classic 50s greaser style, you can also tie a slightly larger shirt or T-shirt on the belly. And one last suggestion for a wonderful 50s look, is jersey blouses with boat neckline.
Retro and vintage jeans - get jeans guide in mondo kaos
With one denim or jeans look, you can style as modern or vintage as you like. Whether you are looking for a retro Rockabilly look, or a unique everyday look, you can always come and visit us in the store where we are happy to give advice and guidance on what suits you best.

See you in Mondo Kaos,
Yeehaw from Team Mondo Kaos
---