New Year's dresses and New Year's outfits in vintage style from Mondo Kaos
Welcome 2022 in a fantastic New Year's dress
If Christmas is traditions, nostalgia, mulled wine and cosiness, then the New Year's party is a look ahead to everything new. We are celebrating the new year with the joy of anticipation, and with hopefully the very worst of the Corona crisis behind us, we are toasting 2022 with a view to brighter times.
2 years have been marked by the pandemic, and therefore 2022 is a special New Year. If you are one of those who also want to celebrate the turn of the year with bravura and coronapas, then you can read on, because we have taken the most beautiful New Year dresses og new year outfits home this year.
You have probably already noticed some of the dresses, but we have several festive news, and both dresses and super cool jumpsuits for those who want a slightly different New Year's look this year.
Flapper sequin dresses for New Year
Sequins and fringes - flapper dress for the New Year's party
We just have to show the amazing Flapper dresses again! We are wildly excited about them, and what's more New Year's like sequins, glitter and sexy fringes? Yes, we're just asking!
The flapper dresses are of course inspired by the roaring 20s, and absolutely perfect as new year dresses. However, compared to the original flapper dresses, they are shortened and with extra long fringes, so there is more visibility to the legs. The sequins are in a beautiful pattern that focuses on the shapes, and the dresses are also waisted. If you are going to big parties this year, or if you are going to celebrate a very special New Year, then this is it the new year dress for you!
Fact box: Sequins
Did you know that sequins are a multi-thousand year old invention. Originally, one wore his coins (Arabic zikka- later sequins in English) sewn on the clothes, close to the body, and it became a decorative sign of prosperity. At the opening of Tutankhamun's tomb in the 1920s, clothes with sewn-on tiny round gold pieces were found. Obsessed with all things Egyptian, the fashion-conscious took this to heart, and sequins became the big hit on party dresses, where the metallic little 'sequins' shone in dim, festive lighting.
Should it be a New Year's trouser suit this year?
Also, as something extra special this year, we have a wonderful selection of absolutely formidable trouser suits for the New Year's party. Yes, you read that right, trouser suits. Usually one connects trouser suits with everyday clothes, but see these super festive and figure-hugging suits that are perfect for you who want a different New Year's look. Maybe you can also remember all the New Year's eveings where it has gotten a little cold around the legs when you have been out watching fireworks in freezing temperatures. With the festive ones New Year's jumpsuits, the problem is solved.
If you are one of those who love the vintage look, you can even rejoice that these modern-looking trouser suits are actually inspired by beautiful trouser suits from the 50s. Yes, there is a bit of modern stretch in the trouser suits here, but we, like the ladies in the 1950s, do not have to wear shapewear.
Do you want to shapewear under his party clothes, one is of course welcome. Remember to see our selection, which we have fixed!
Brigitte Bardot, Vogue 50's cut pattern, dolores dandridge
We have three different trouser suits to choose from. There it is, soft and shiny velor trouser suit Emmylou in black from Very Cherry. With long sleeves and wide legs, this is an elegant and comfortable outfit to celebrate the new year.

There's the super smart Gillian, in a slim look and off-shoulder. It is a perfect replacement for the little black, with a nice collar edge which makes the trouser suit super festive for New Year, and in addition there is an included belt which emphasizes the waist.
Last but not least, the wonderful Mia trouser suit, with a corsage-style top, wide legs and an included large bow that can be styled in different ways, and gives the suit its very special look. Give it gas with glitter to complete your New Year's look, with these beautiful jumpsuits.
New Year's dress in pencil look
Pencil dresses from Zoe Vine and Unique Vintage
Of course we have plenty of festive pencil dresses which are suitable for New Year's Eve. The pencil dress is perhaps almost synonymous with one New Year's dress, and we have pencil dresses in many looks, ranging from glitter and velor with deep cutouts suitable for the big party, to the long-sleeved more subdued pencil dresses for a New Year's dinner with friends and family.

We have pencil dresses in different styles and colors from Zoe Vine and Unique Vintage. What about e.g. Faith in purple with the very special 'Chinese collar', or Martha in three beautiful colors with wrinkled side pieces? There are also Peaches in dark green velor with off-shoulder neckline, a very elegant and festive new year dress which sneaks into the body, and puts full focus on your feminine figure.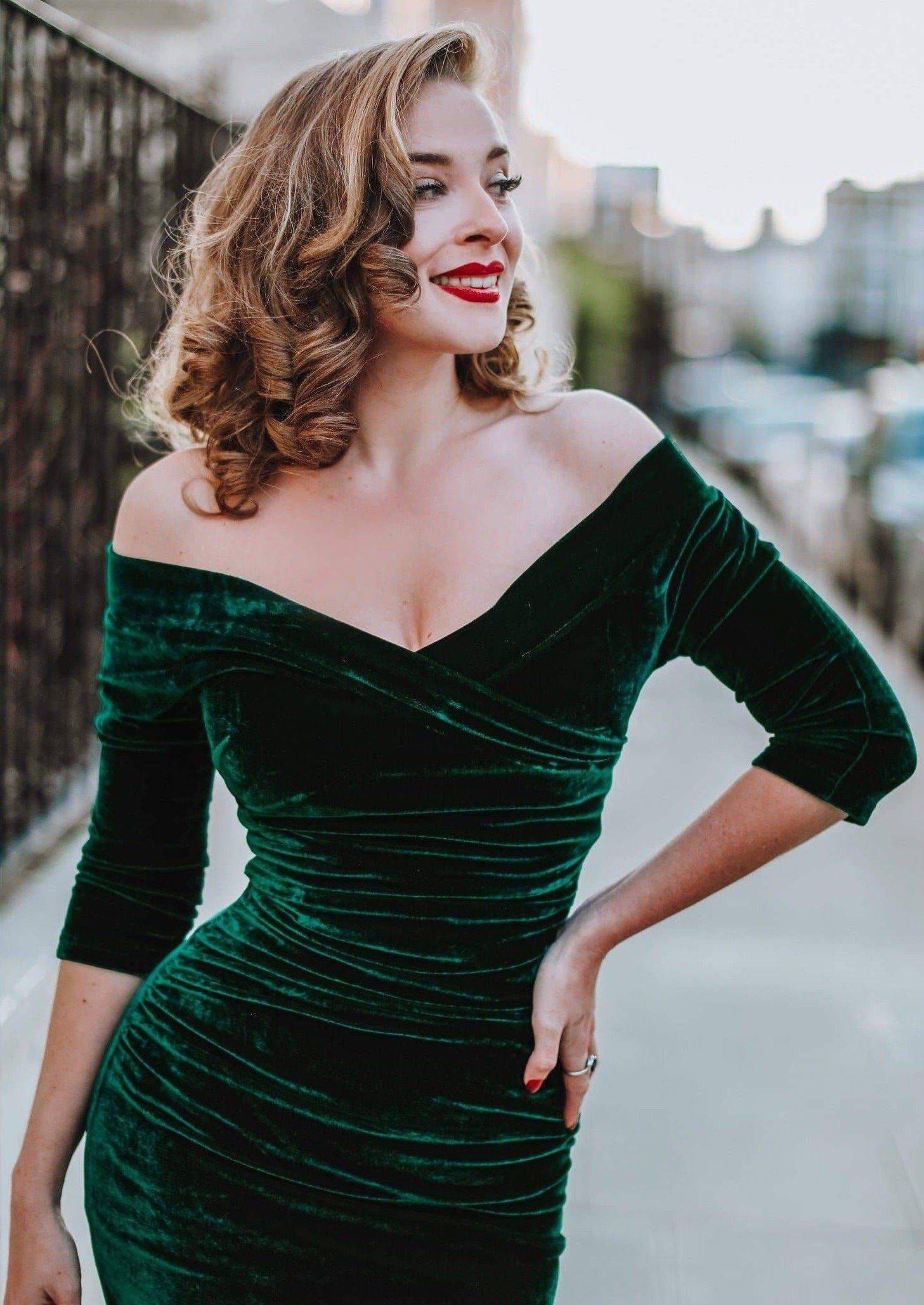 Pencil dresses for New Year from House of Foxy and The Pretty Dress Company.
The selection of New Year's dresses is large whether you are looking for the little black, and something with colors.

From Pretty Dress there is the Anais dress, which is elegant and stylish and the epitome of the little black. The dress is timeless and can be used for New Year's dress as well as for cocktail dress at other times of the year. We have it completely in black or with the beautiful delicate pink wide stops with bows on.
Also there is the perfect 'little black' or Little Black Dress, from The House of Foxy; Jackie O, with a tight silhouette and matching stunning bolero jacket. The dress has the high, wide scarf with wrinkles, which is quite typical of the early 60s.
No New Year's party without glitter dresses
From Daisy Dapper, we have a wonderful party dress for all the season's parties, also for New Year's Eve. Who would not want to shine with the New Year's fireworks on the last night of the year? Yes, we're just asking, but if it's you, then here's the perfect little glitter case.

The dress has a nice square neckline, and the fine pleats, both above and below the bust, give a beautiful fit. The silhouette of the Debbie dress with scarf is typical of the vintage style around the late 1950s and early 1960s. If you are looking for a festive vintage New Year's dress, then Debbie is a really good offer. Debbie is available in red, green and antique gold glitter.
Vintage fashion Inspo; off-shoulder, Balenciaga, red sequins and sweetheart pencil dress
Festive swing dresses for New Year's Eve
Should it be a New Year's dress in swing style, we also have absolutely fantastic dresses for you. If you just love swing dresses, but you also think that it can be difficult to find a sexy swing dress that suits the special last night of the year, now is the time to strike. We have Leyla in beautiful strong colors and Gidget. The gidget is reminiscent of our beautiful and super popular ruffle top, it has a very wide ruffle edge which can be styled on or off-shoulder and also works as a sleeve, it also has a beautiful swing skirt. The dress is festive and there is plenty of room for fine accessories, such as a festive necklace or bracelet. We also have the beautiful Hollywood dress from Very Cherry in cognac colored, we now also think it will match the champagne bubbles just fine.
Accessories and shoes in vintage style for your New Year's Eve
The all the beautiful new year dresses it applies that the accessory puts the finishing touches.

Whether it's a pair of beautiful fishnet stockings from What Katie Did with beautiful vintage stitching or control top tights from Swedish Stockings, you should find a pair of delicious socks that match your New Year's outfit.
We also have festive shoes, for example we have some of the very latest Miss L Fire shoes available, Loretta in red and black suede or Amber shoes for example in gold!
We also have hair flowers that can really give the very last touch to a nice outfit, or what about our very own bracelets and earrings in glitter vintage look that you can get in many different colors, and wear as a beautiful contrast to your New Year's dress.
If you need help finding your perfect New Year's dress, stop by the store where we are ready to help you with the perfect New Year's dress, a brilliant New Year's look or the perfect New Year's accessories.

We wish you a fantastic New Year's Eve,

Team Mondo Kaos 🎉
---