Novelty print dresses in 50s style
You have probably seen us refer to novelty in relation to our beautiful vintage and retro clothes, for example. clothes off Palava which often have prints and embroidery in novelty designs. Today on the blog we want to present the beautiful dresses from Retrospec'd and our bestseller dress with cactus print. And then we'll tell you a little bit about novelty printing and what it really covers.
'Novelty' really just means news, but in English the term also covers a kind of 'joke and joke' object, which is based on a theme whose only function is entertainment value. If anyone can remember 'Big Mouth Billy Bass' which in 2000-2001 was a popular wall decoration as a song 'Take me to the river', then you can probably see it for yourself.
Basically, novelty objects have no real function other than being funny, but the novelty concept is also used about things that are something other than they pretend to be. It can e.g. be it a cake tin that looks like a book, or it could be your slippers that look like rabbits. It all belongs to novelty, because the fact that your slippers look like rabbits does not change the function of your slippers, it's just a sweet and fun effect.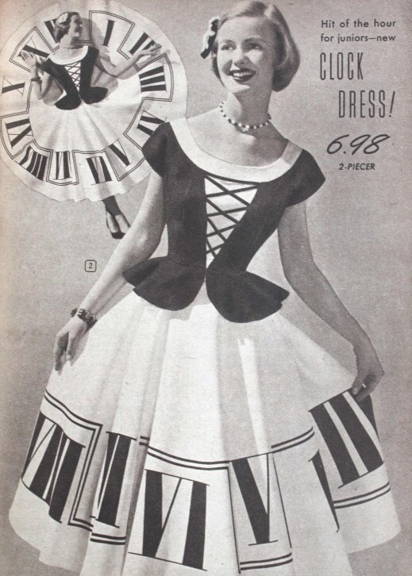 Novelty printing on clothes is similarly something you do not expect to see. So what are not novelty prints are e.g. flowers, leopard pattern or abstract figures, on the other hand, it is novelty if a print consists of a garden with flowers and houses, just as leopards in spring are. It must be an unexpected, surprising motive.
Dresses and skirts with various novelty prints
There are different kinds of novelty prints, e.g. landscape prints. These are often exotic holiday landscapes, or rural idyll. However, it can also be city-scapes, with city scenes.
Another is the theme printed, it can be expensive, or a music theme.
The novelty print can also just consist of a so-called 'boarder print', ie a print around the dress - or the lower part of the skirt. Or it can be a single application, like the famous one 1950er puddle skirt.
Perhaps some of you have seen one of the most famous 'novelty' skirts from 1950s which is the poodle dog skirt.
It consists of a circular swing skirt, with an applied poodle dog on the side. That idea was quickly developed and turned into cats and dachshunds, the Eiffel Tower and telephones and whatever else you could think of. They were easy to make themselves from a solid-colored swing skirt, and therefore especially popular with young people in 50s.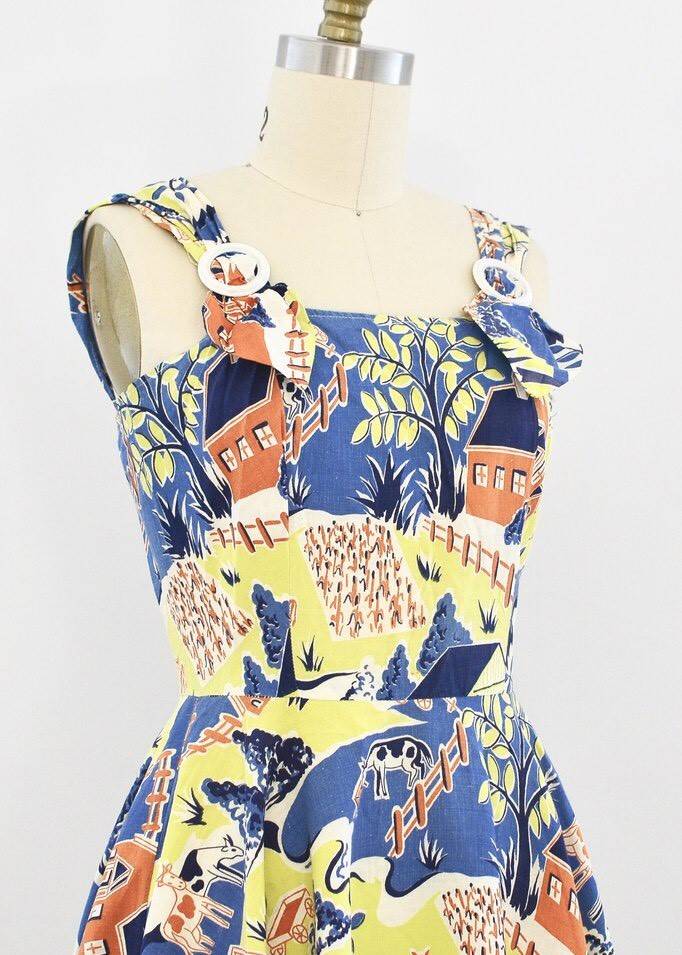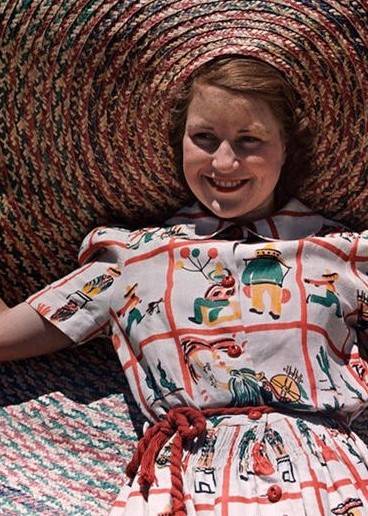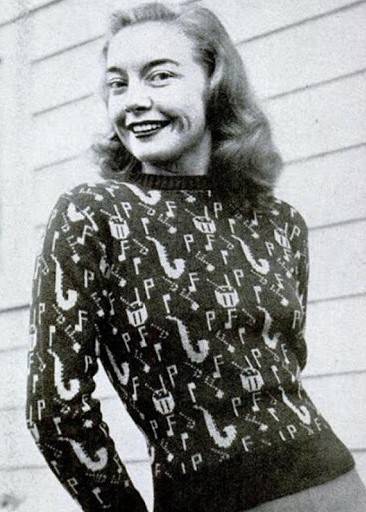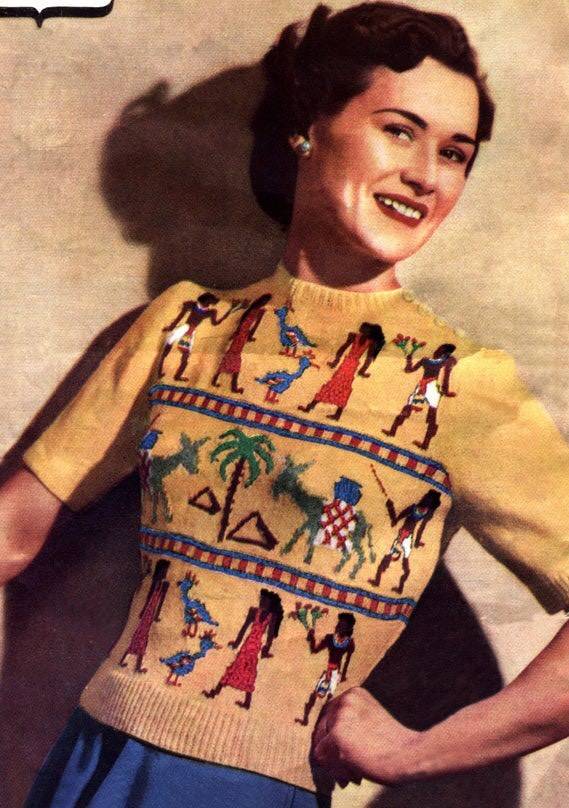 Novelty print in the 30s and 40s
In the 1930s, small prints on clothing became popular. During the Depression, a little encouragement was needed, and the fabrics had patterns, often flowers, but also small novelty designs, such as
loops
or
dogs.
Feedsack dresses were a great thing. The poverty after the stock market crash was great, and families had to make clothes from grain and flour sacks. The manufacturers made a virtue out of it, and began to print their sacks in beautiful patterns. These became known as 'feedsack' dresses.
Novelty knitting in the 40s
In the 1940s, most novelty was seen on knitwear. Knitwear had entered homes and became a sensible occupation during the war. In addition, you only had to dress sparingly due to rationing on many things, including fabric. They started knitting beautiful sweaters with novelty designs, such as instruments or the Egyptian-inspired blouse, as seen above.
Novelty print in the 1950s
Probably the most famous novelty prints come from 1950s.

I 50s novelty became the all-time great craze. Seen in historical light, it makes good sense, in the time after World War II one would celebrate, one would have fun. technical advances made it easier to produce the beautiful prints and colors. The colors became stronger and skirts and dresses got so much width that you suddenly had plenty of room to show beautiful patterns on.
In the first image below, you can choose between the themes; 'around the world', 'puss'N'poodle', 'falling pins' (a trip on the bowling alley), and 'racing cars'. Second image is the advanced version of the poodle skirt, while third image takes you on a tour of the museum. The last image is another popular theme, namely spider web.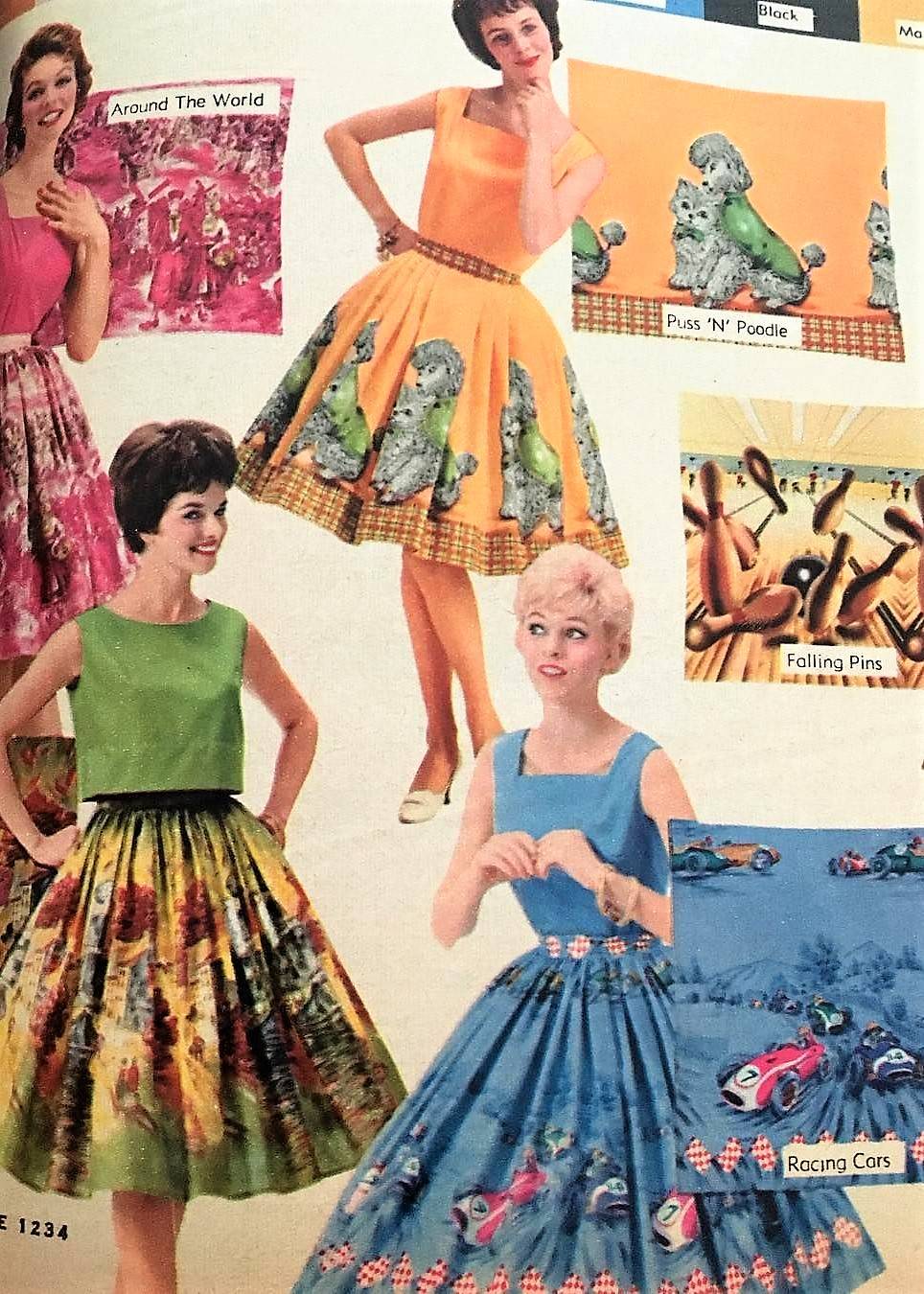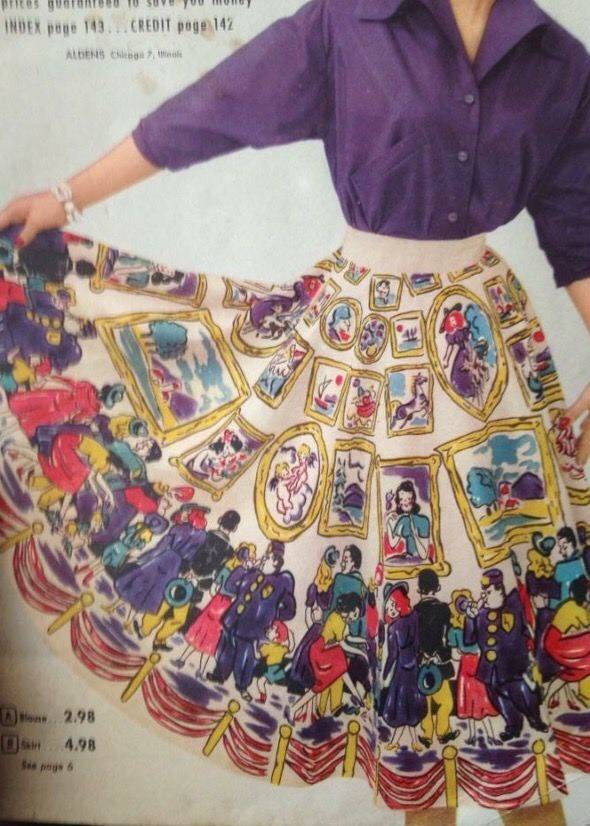 Novelty print dresses at Mondo Kaos
In the shop we often have novelty prints, and this summer we have taken home the most beautiful dresses in beautiful novelty prints as well as beautiful floral dresses in the boarder-print style.

This summer we have got the most beautiful novelty dresses from Retrospec'd and we even got the beautiful one kaktus dress home in both black and white. Also, we have further got the cactus printed home as swing skirt, so what do you say?
Print with Japanese garden and pagoda
This endearing dress is in real 50er novelty style, with strong colors and a beautiful novelty 'gardenscape'. It tickles all novelty characteristics of, by being both exotic, a beautiful landscape and with a fine 'unexpected' pagoda and small fallow deer. A real summer dress with straps. The skirt has nice little pleats, which give lots of fullness to your vintage style swing dress, and make it perfect for dancing and petticoats as well.

The beautiful summer dress is in super comfortable viscose, which falls beautifully, and the print is the super charming Japanese garden landscape with pagodas and trees.
Product not found. Have you uploaded products to your store?
Product not found. Have you uploaded products to your store?
Product not found. Have you uploaded products to your store?
Bounty beach novelty print
Printed, it is the wildest tropical bounty vibe with cabins, palm trees and beach. It brings to mind the Hawaii wave in 50sand the dress is super atmospheric in its gentle blue and green shades.

The dress has a beautiful v-neck, with cross-over effect at the bust. Wide straps with beautiful pleats give a beautiful fall and plenty of space over the chest. The beautiful swing skirt spreads out in full bloom.
Carnations in boarder print
An example of boarder print or edge print you get with this incredibly beautiful carnation
dress
in white with red carnations. The carnations stand up nicely along the edge of the dress and create the illusion that the flowers grow freely in a garden. A super beautiful different floral dress for summer and summer parties.
Beautiful cactus dresses and other novelty prints at Mondo Kaos
A real bestseller and classic at Mondo Kaos er cactus dress. You love it and so do we, so now we get it home with print on a black background as well as white!

In addition, we have a beautiful sloom dress from Seamstress of Bloomsbury with a bow pattern and a shirt dress with small discreet dogs. Both are great novelty dresses for those who like the more discreet novelty look.
Come and see the amazing dresses in the store, or see them online. We love the beautiful prints, and look forward to wearing them all summer long, whether it's for the beach, on holiday or just because ...
They are the perfect ones dresses for beautiful summer days, garden parties, holidays or whatever you want.
Good summer,
Team Mondo Kaos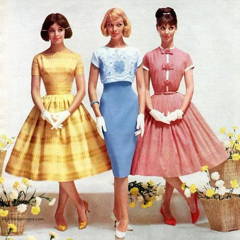 We show the beautiful summer dresses through time, and on what our wonderful brands have been inspired by.
---
1 comments
---
---