Mondo Kaos' Guide to Autumn's Must-Haves
Then it's really autumn, both for better and for worse. This means both days with high blue skies and beautiful colors and the sound of leaves rustling under the soles, and it means rainy weather, gray days, wind and headwinds on the cycle paths.

We have got lots of beautiful autumn goods in the store, but in addition to all the beautiful tops and bottoms and vintage-style dresses in the delicious autumn shades, there are also all the things that must be replaced once in a while, but which are absolute autumn MUST-HAVES! Must-haves for autumn include things that make it a little nicer and nicer to go out in the autumn, no matter how it happens, and just because something is a necessity it doesn't have to be boring. Hats, gloves, socks, etc., everything can both be of the highest quality and at the same time be something you are happy to wear.
Gloves and hats for your vintage outfit
Ugh, it's gotten cold around the hands... Let's therefore start by showing you the beautiful gloves that we have again received from Rhanders Handsker. Rhanders Handsker has a long history of glove making and glove making, and the beautiful designs are classic and fit perfectly with the vintage style. The gloves are made with great consideration for the environment, and all skins are by-products of the food industry. All other products are as untreated, natural and organic as possible. Aniline leather. Wool. Cotton. Peace silk.
We have taken home gloves in beautiful colors that suit our unique customers, so there is sure to be a pair of gloves that also suit your vintage style. Warm hands and good style!
Of course, we also have our famous berets from Diefenthal. We looked for a long time for a beret that lived up to our standard of both real quality and fit, so of course we have taken home the beautiful berets again this year. See all the nice colors and match them to your gloves, your coat or your warm knitwear.
The beret not only keeps your head warm, it is also a super chic autumn accessory. If you want to make your beret a little extra unique, you can, for example, style it with a brooch.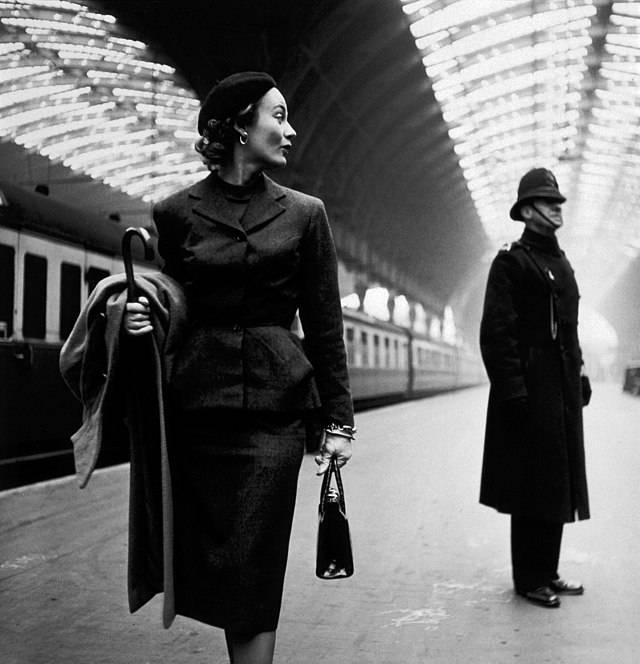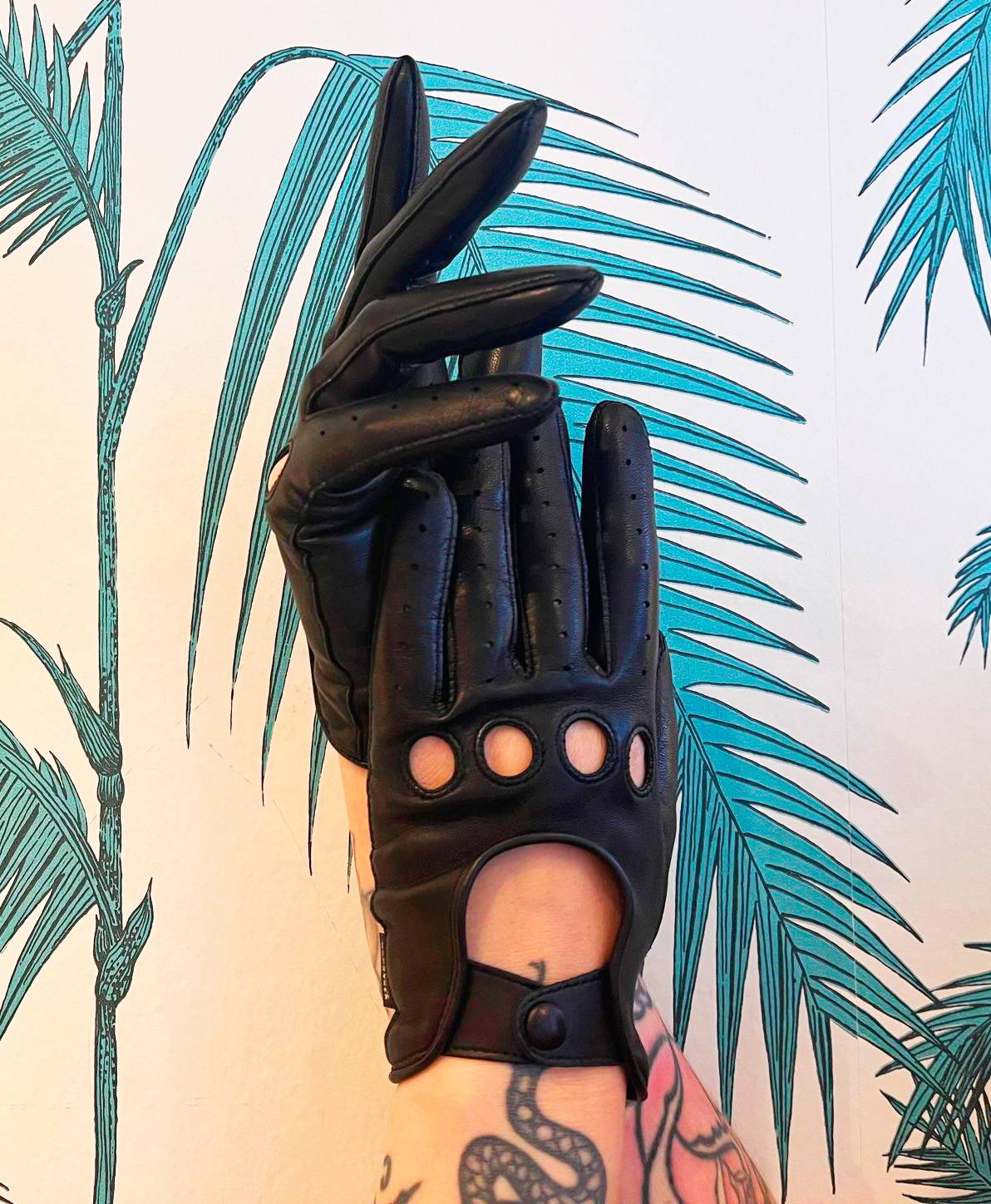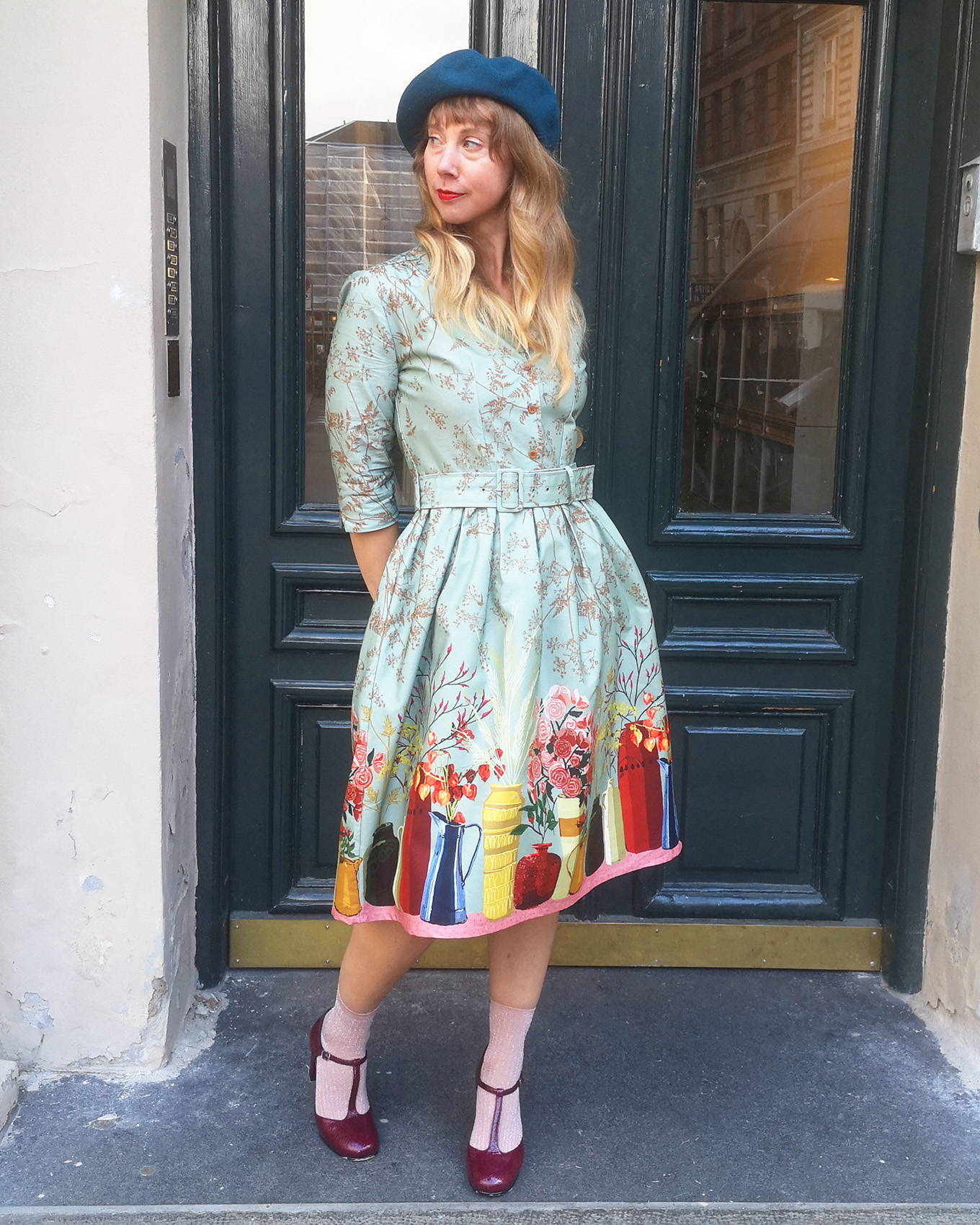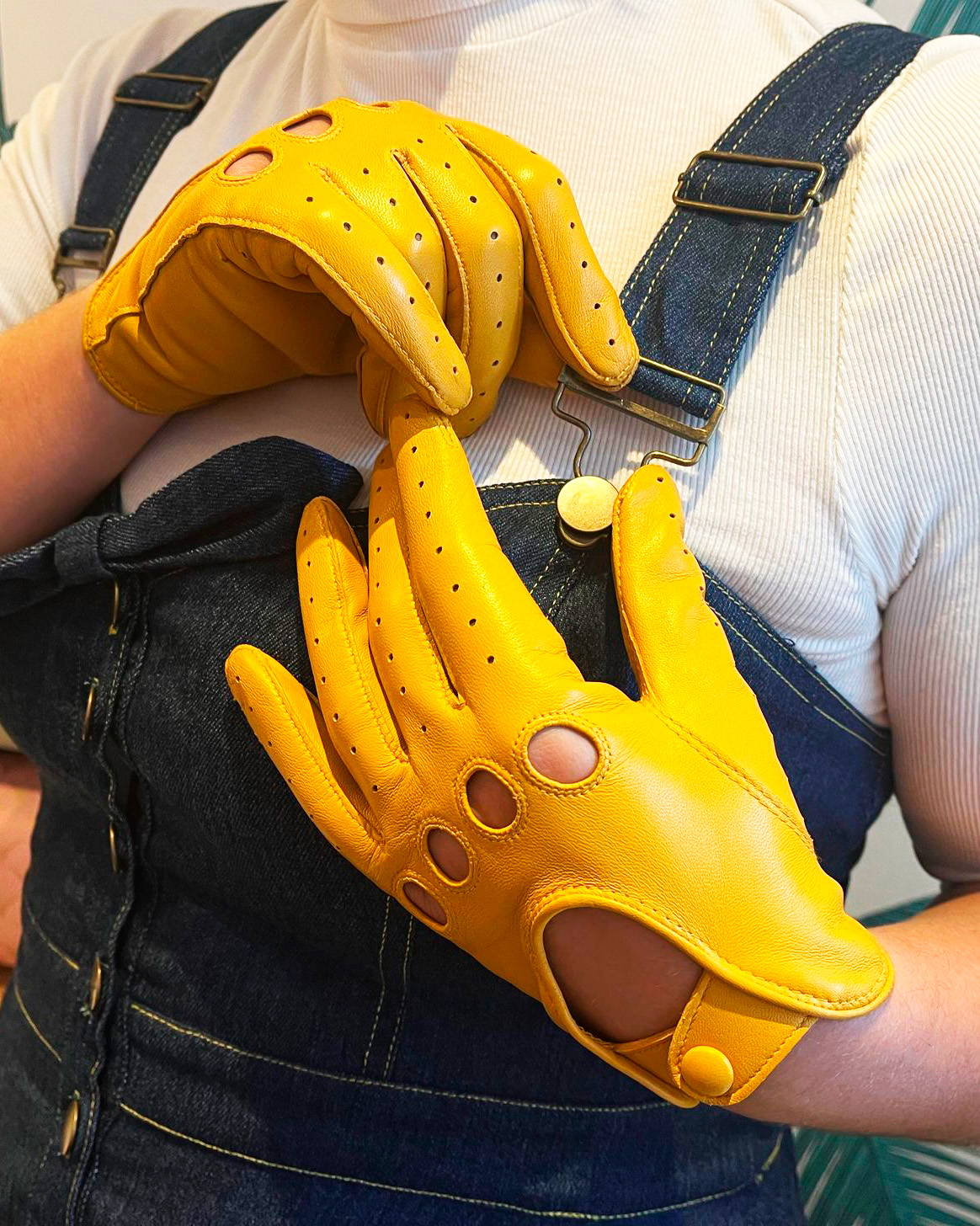 Warm with vintage style knitwear
Yes, while the knitting craze is still raging, not everyone has either the time or desire to knit. On the other hand, you may really want to dress in warm sweaters, cardigans and, not least, waistcoats when the 'sweater weather' is upon us. And of course we think knitwear is an absolute autumn must-have when you need to dress in layers to keep the cold out.
1940's style or novelty cardigans?
We have knitwear for every taste and in many different styles. For example, there are Emmy Design's 1940s-inspired cardigans, which are sure to be a fall and winter hit every year! This year there is of course the bestseller Ice Skater, but also the 'Forgot My Jacket' cardigan (Emmy knit is on the way, and should arrive very soon).
To all those who need more Palavas whimsical universe of colors, flora and fauna, and maybe a little more for cotton, there are also wonderful cardigans to choose from. Both the single-knitted ones with embroidery, and the jacquard-knitted ones, which are thicker due to many interwoven threads.
Vintage style waistcoats or slip-ons
From our vintage universe, we are also familiar with the beautiful slipover or vest. It is an absolutely brilliant autumn must-have. All those days with cool mornings and evenings, but where you can just wear a shirt during the day. Or maybe you want to extend the wearing time of the thinner blouses into the autumn, then the waistcoat is absolutely brilliant, yes, actually a must-have.
We have vests from Palava in patterns and from Bloomsbury in plain colours. The vests also give a fantastic vintage outdoors look styled with a shirt and vintage style trousers, eg Hep Hepburn Slacks, New Knickerbockers or Miss Fancy Pants.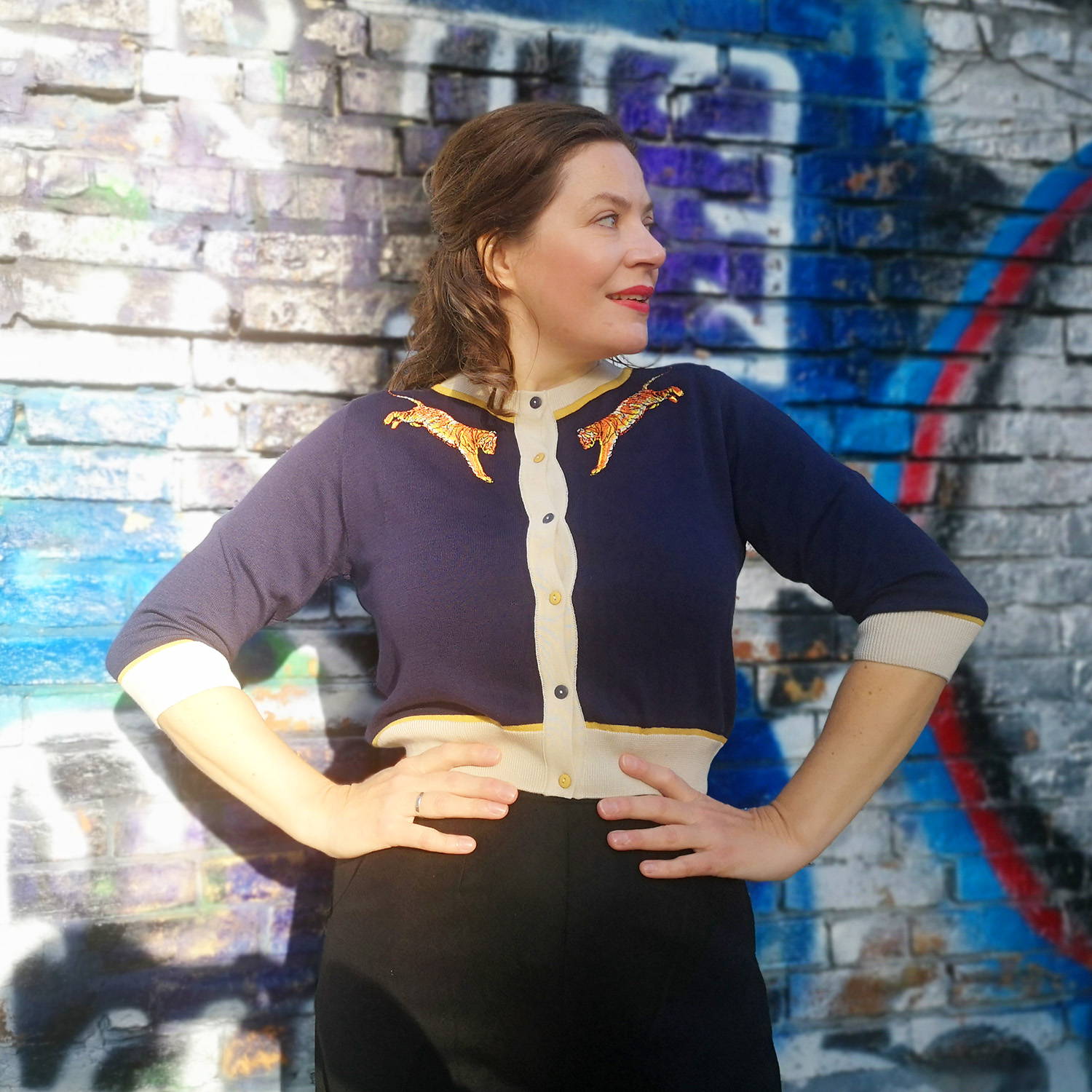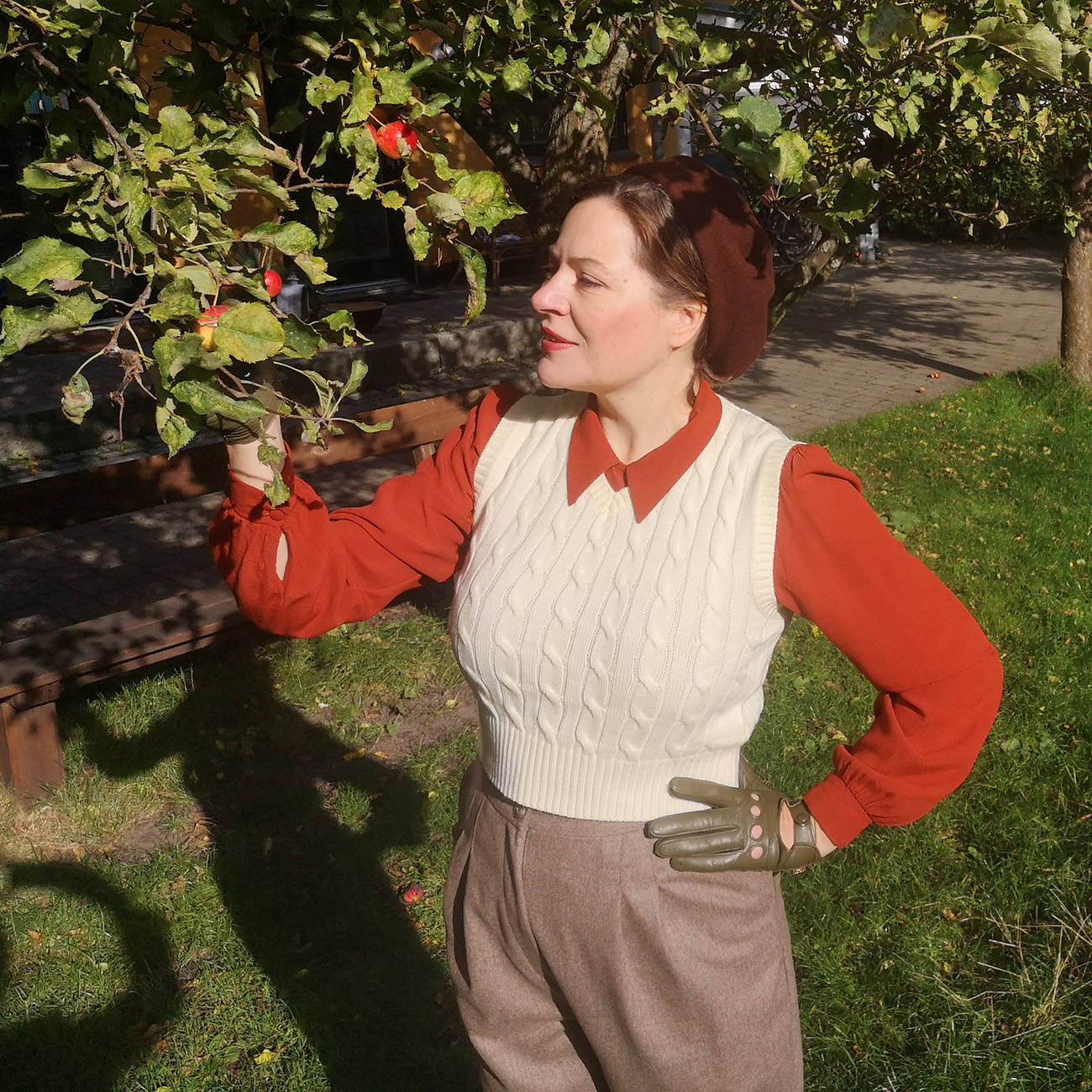 Don't forget the socks, in the winter we simply cannot do without good tights and tights. Many of us may have a little too many of the kind that don't fit well, and that every time the new pantyhose season starts, you have to spend time checking the bad socks you should have thrown out at the end of the last season. With Swedish Stockings, that is no longer the case. We love everything about Swedish Stockings, they fit like a dream and are really worth looking after. They are made from recycled plastic and from organic wool and cotton. For example, the cashmere stockings are ultra luxurious and keep you warm on the chilly days.
Shoes and boots are of course a must-have, and it's a fantastic feeling to be able to match your footwear to the rest of your autumn outfit. That's why we also get shoes from Nordic ShoePeople in beautiful colors again. If you are into the colored coats, or just generally colored accessories, you can bring the look together with a pair of matching shoes. It is also both elegant and typical of a classic vintage look.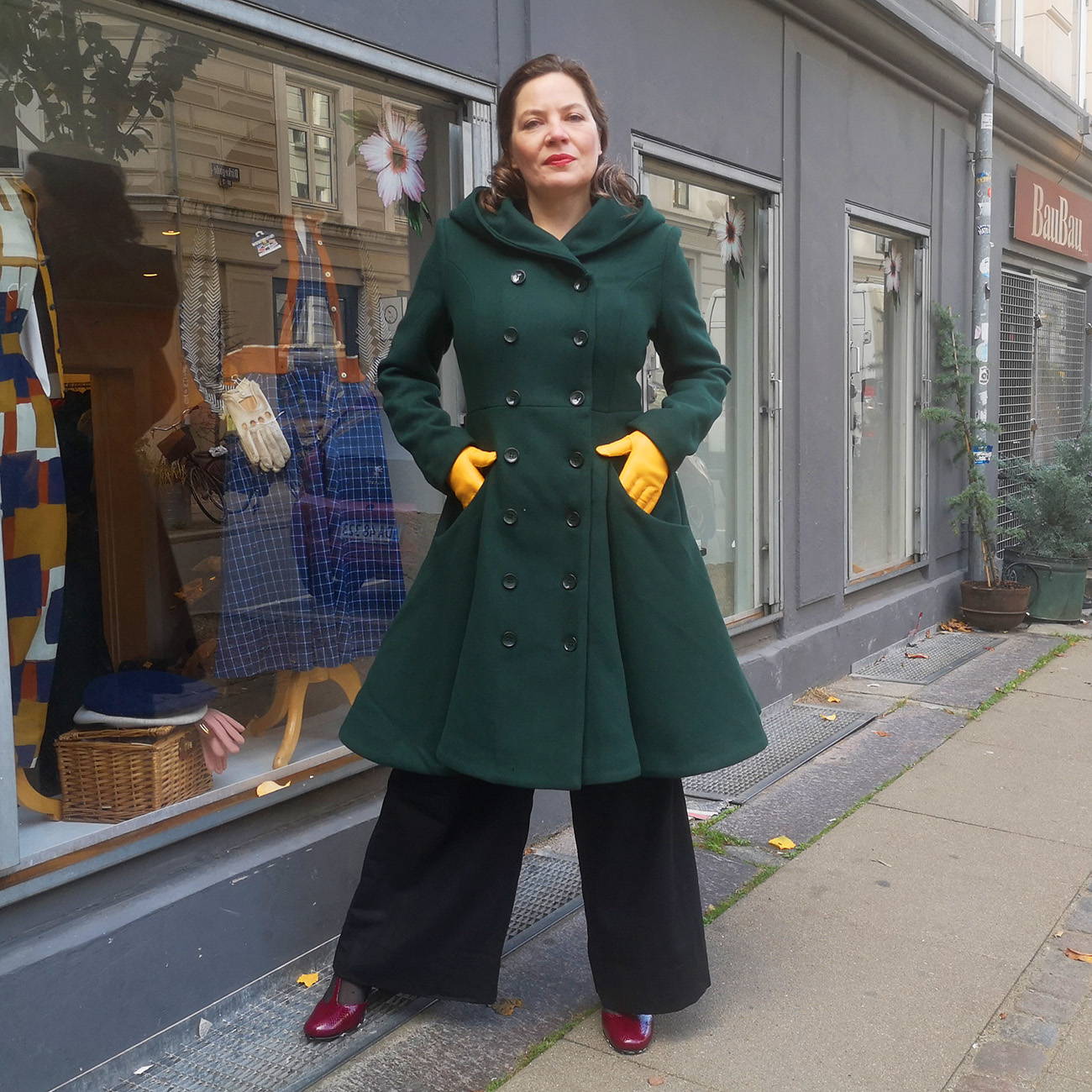 Autumn coats and outerwear
Regardless of how you feel about colors, whether you prefer to have lots of color in your wardrobe, or you prefer a more basic wardrobe with individual parts in patterns or colors, a good vintage-style autumn coat is a must. A coat can give a wonderful overall look, especially if you make sure to have matching accessories. Alternatively, you can let all the accessories match and wear a coat in a neutral colour.
Red, green, burgundy, orange... We get coats home in the right autumn colours. In addition, there will of course also be black and brown coats, and beautiful coats and jackets from Emmy Design are just around the corner. All are in the finest vintage designs, and indispensable for autumn.
If you are cycling, a water-resistant coat is a must this autumn, and we therefore recommend the coats from Miss Candyfloss, which are super stylish and ideal for autumn's rainy days.
What are your autumn must-haves and which ones are you missing in your wardrobe? Come and see our entire selection of autumn must-haves, and get inspired to spice up your autumn wardrobe a bit.
Best wishes
Team Mondo Kaos
---