Marilyn Monroe - The style icon
Marilyn Monroe's personal style
On August 5, 2022, it will be 60 years since Marilyn Monroe was found dead in her home in Los Angeles aged just 36.

Despite all the movie stars that came before, and all the movie stars that have followed, Marilyn Monroe is and will be perhaps the greatest movie icon of all time. Many books have been written about Marilyn Monroe, about her life and her films. Today we pay tribute to Marilyn's wardrobe and look at the development from 1940s until her death in 1962.
When we think of Marilyn's look, most people probably think first of all of her film look. It is almost difficult to separate the two as many of her costumes are inextricably linked to Marilyn Monroe's icon status. We will touch on some of the most famous costumes, but we will also try to look at Marilyn's personal wardrobe and how it changes.
Just a few words about pictures. There are an incredible number of beautiful pictures of Marilyn Monroe, including some that could illustrate her preferred wardrobe better than others. But since the vast majority of images are under copyright, you unfortunately have to make do with descriptions and the images that we are happy to show you.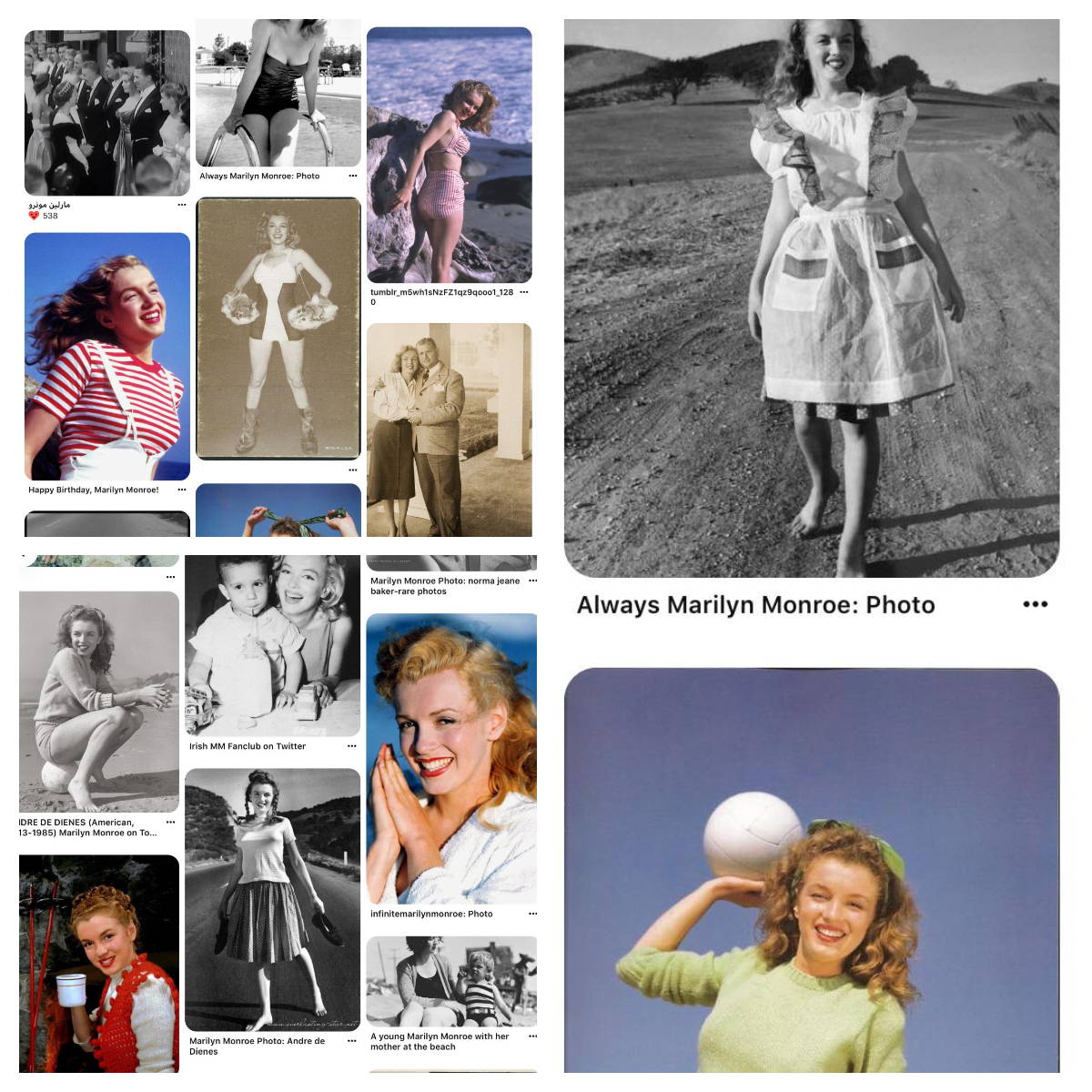 1940s Norma Jeane Dougtherty/ Baker/ Mortenson
Just like any other young woman, the young Norma Jeane, before she became Marilyn, was i 1940s still searching, and the pictures we find of her are typically the pictures taken with a view to a career in film and as a pinup. In other words, we find the famous bathing pictures in bathing suits, bikinis and shorts on the beach.

But in fact there are also other pictures of Marilyn in shorts and a part of Marilyn in trousers, so something suggests that it was actually something she wore on a daily basis. Just like a sweater is also a typical look for Marilyn in these years. In the pictures of Marilyn in dresses, it is clear that we are still looking at a young Norma Jeane Baker, and the style, with few exceptions, does not yet seem to be really her own.
The pictures below are all from 1940s, the first a private photo with her first husband James Dougherty, we see the famous shorts and a typical 1940s shirt blouse. Picture 2 could be Marilyn's own clothes, the picture was taken in 1945 for YANK magazine. The last picture is one of the typical bathing pictures from this time. All are in the public domain/wikicommons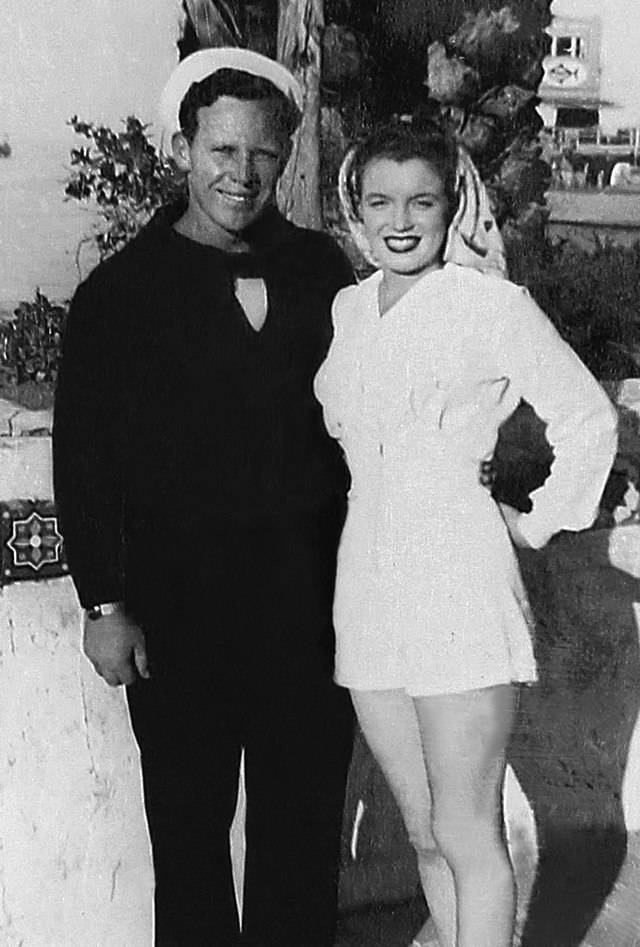 1950s is Marilyn's decade! Her name is no longer Norma Jeane and she will become the world's biggest movie star.
Just as we associate Marilyn with the famous costumes she wears in the movies, Marilyn also wears typical movie star wardrobe outside of the movies. It is Marilyn-Monroe the brand or the star, more than the private person, one gets the impression.
Marilyn Monroe's most famous costumes
First, let's look at the film's Marilyn Monroe, and the most iconic costumes.
The most famous costumes have almost become synonymous with Marilyn, almost so much so that when we think of the dress over the air shaft in 7 Year Itch, we almost don't think of it as a costume... It was the designer William Travilla who designed all the dresses we associate Marilyn most of all with.
The pink strapless satin dress that she wears while singing Diamonds are a girls best friend, the Gold Lamé dress from How to marry a millionaire and of course the white halter neck dress from 7 Year Itch.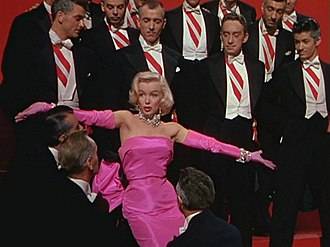 The pictures above from left to right are: test shot for the movie Niagara, Marilyn Monroe in 7 Year Itch and the original dress for Diamonds are a Girls Best Friend, which was judged too daring.
Famous dresses with famous anecdotes
Most of the dresses naturally also come with their own story, such as the pink dress which really should have been even more of a showstopper, because it was made of net material with sewn-in glass crystals, and with skin-colored fabric at the bosom. During the filming of the film, however, it became known that Marilyn had published a nude calendar back in 1949 before she became famous, and therefore a new dress had to be made that was less revealing, and it became the pink satin dress.
The skin-coloured dress with crystals in which Marilyn sang 'Happy Birthday' to JF Kennedy in May 1962, Marilyn herself called "skin and beads". Allegedly, it was so close to the body that Marilyn was sewn into it. It again recently caused a stir and made headlines when Kim Kardashian wore the precious museum dress to The Met Gala.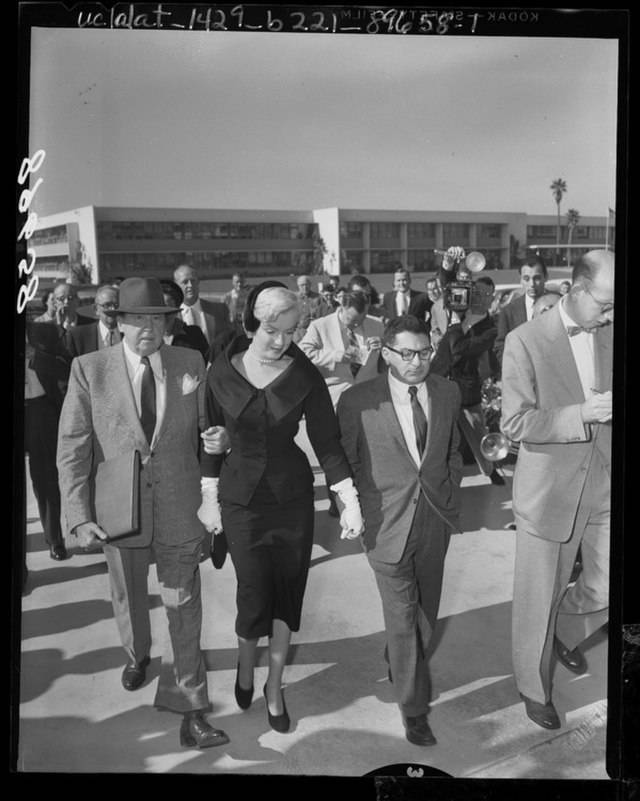 In the many pictures that exist of Marilyn as a 'private person' in 1950s the style is also body-hugging and movie star-like. Lots of pencil dresses and pencil skirts and often even wiggle skirts, the kind where you really have to wiggle to walk in them. The dresses are either with straps or a deep plunging neckline, even the few more relaxed pictures are still in pencil skirts, but a sweater or a slightly looser shirt blouse.
1960s - Marilyn's Personal Style
At the end of 50s and to her death, one finally sees a more private Marilyn depicted in the choice of wardrobe.
In 1961, when Marilyn recorded The Misfits and helped make jeans for women popular, she also wore the famous blue denim herself. But she mostly wears slacks and capri pants in a relaxed style.
From this period we also see the typical Marilyn look with a boat neck blouse and also body-hugging knitwear becoming a favourite.
She has a full wardrobe of simple sheath dresses, a more straight up and down version of the pencil dress, but in the Italian silk jersey that drapes around the body and shows shape.
The favorite designer is Pucci, who is known for his wild and sometimes psychedelic patterns, with Marilyn preferring plain blouses and dresses.
Tv and below is a selection of Marilyn's Pucci wardrobe, where you can see the colors and the simplicity, these are collages from pinterest.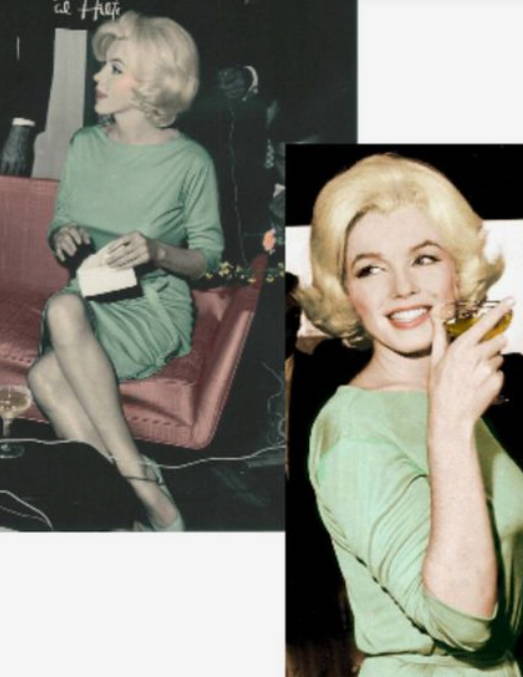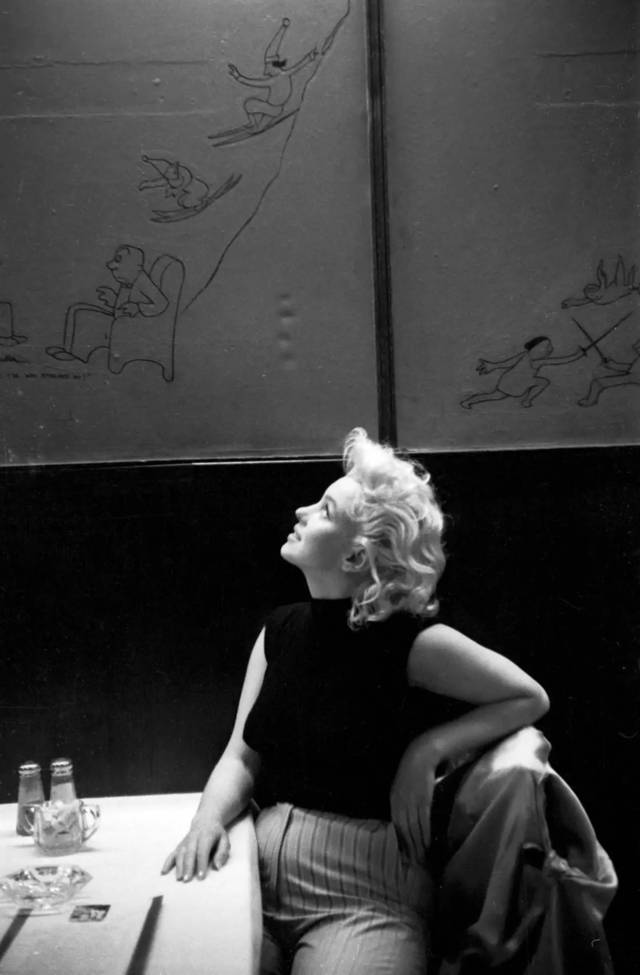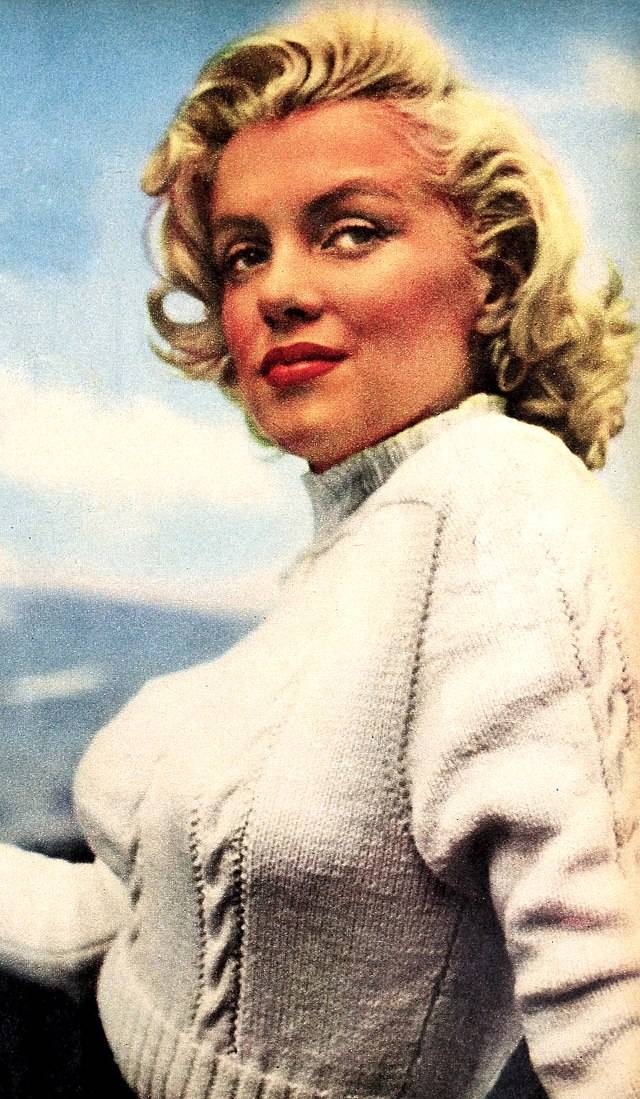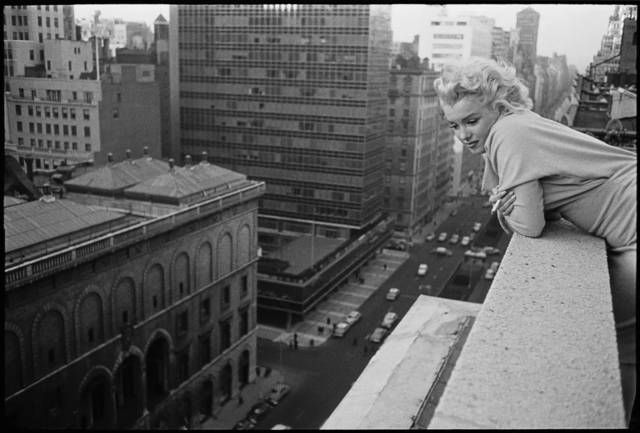 The last thing Marilyn Monroe was seen in public before her death was the lime green Pucci shirt, and her housekeeper also chose the light peppermint green dress that was Marilyn's favorite and in which she was buried.
So let's end with perhaps the most well-known Marilyn Monroe outfit; that everyone knows and can quote. Asked by a journalist what Marilyn slept in, she answered cheerfully; "What do I wear in bed? Why Chanel no 5, of course"
---