Everyday life with vintage style - Mother & Daughter tells
The customer portraits are an inspiration to all our customers. Today it is Denize and her mother Vivi who talk about how they came up with it Mondo Kaos and the vintage style and what inspires them. Denize also gives a few good tips on how to dress in the vintage style, even in a busy everyday life with children and work/education. And from mother Vivi, we get wonderful tips from a pro who has had her own clothing design company herself.


Name: Denize Thejl, 32 years old, currently on maternity leave - previously trained and worked as a dental nurse but changed course and by training myself as a primary school teacher (mathematics-nature / technology-visual arts).
Vivi Theil, 62, job in the jewelery industry - earlier in the 80s clothing designer with her own company in Aarhus under the name "Vivi Theil design".
How long have you been a customer?


Exactly since May 18, 2019, when I bought my first dress from Unique Vintage in navy with white dots physically in the store. It was on an excursion to KBH on the occasion of a family visit. However, I had long had long eyes for your clothes on yours webshop, but as a resident of Jutland, the store was far away.
Ever since, we (my mom and I) have enjoyed a lot of shopping at yours webshop - which is as good and recommendable an experience as it was physically in the store.
Denize and mother Vivi i Mondo Kaos after the first visit.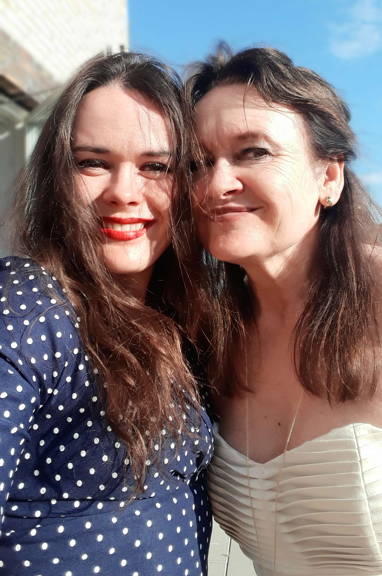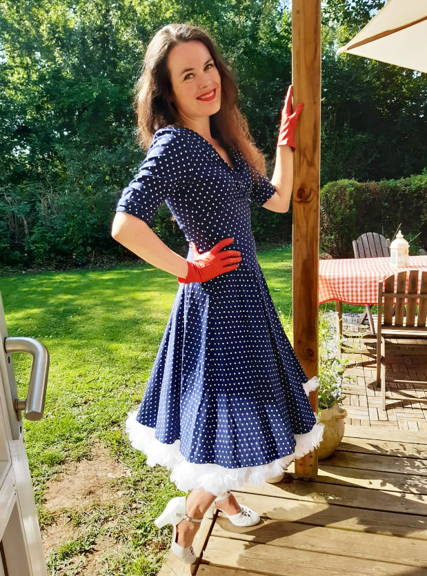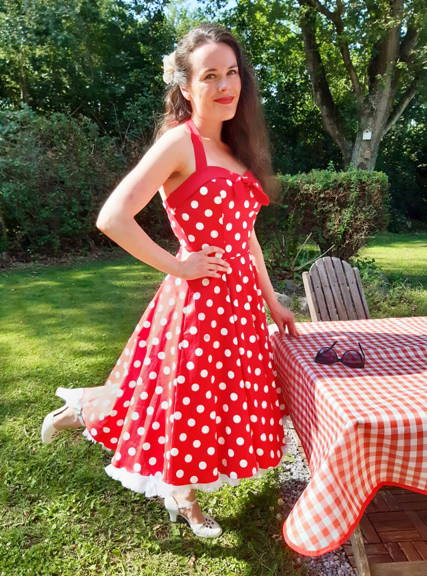 How did you find the store? Mondo Kaos?
In connection with that I was looking for repro clothing online to examine the committee in Denmark. I was inspired by a computer game that I love, in the style of 1950'erne. Now I just needed to find a store with similar clothes.
I quickly fell in love with your selection - especially the dresses (I'm a BIG dress fan) - and later also made my mother fall in love with your selection (I probably talked quite a lot about you 😉). She is also a big fan of the dresses.
Above: Vivi in ​​the favorite dress from The Pretty Dress, the catalog from Vivi's company (from the 1980s-early 90s), Denize in red Stop Staring dress.
Timeless classics and 'sweet customer service'
What matters most to you when you shop in Mondo kaos?

There are several things - and it's a combination of these: Your beautiful selection of feminine and good quality dresses in repro style, your exceptionally sweet and ultra fast customer service, as well as you think about climate / environmental impact. It means a lot to me to buy some clothes that are "timeless" classics and that can last a long time.
For my mother, it's about your service, the quality of the clothes, the feeling of being feminine and feminine as "in the old days", where the female figure was highlighted - this she misses in today's clothing fashion. Also a reason why she herself in the 80s started designing and selling clothes in DK and the outside world with a focus on the clothes to fit the woman and not the other way around, and with good customer service in focus.
What is the best thing about Mondo Kaos?
We both agree that you have an unusually beautiful selection that you do not see anywhere else. You are a "loner" in the clothing industry.
Do you have a styling tip or something else you want to give to new customers?
I personally think that the most important thing is to accept and be happy with yourself - exactly as you are - and to do so only wear clothes that you feel great in. The most beautiful thing is a happy woman who rests in herself. I'm working on this myself.
Likewise, if you go "all in" on something, it makes all the difference. Eg. with a red lipstick, nail polish, straightened hair, accessories, dress and shoes, etc.
Denize's best tips for vintage styling in everyday life
But personally, I think it can be difficult in today's Denmark with family, job / education, etc. Something I have recently done, to make this a little easier for myself, is to put all my clothes in sets - e.g. skirt and a top (possibly 2 tops if you can not choose) - so it is easy and quick to find out when you, for example, have a small barn owl running around the legs of a at. 05 in the morning ❤️ It has helped me a lot.
It also means that you avoid unnecessary purchases, so you have an overview of what you have and what you are missing from clothes or accessories - or something completely new that you have nothing of.
Customer reviews and SoMe
For new customers in the store, I find the customer reviews and your daily inspirational photos on Instagram / Facebook great to be inspired by. I myself have been very inspired by this - so it's a good place to start with getting new ideas for styling that you may not have even thought of. Eg. I was personally skeptical about trying swing dresses, because I was afraid that it would not dress me, but when I saw other women who reminded me of myself in body shape, I got the courage to try it - and I have not regretted it 😊 And I have also dared put a little more color together than I would have done before.
My mom's styling tip is to start by choosing a dress and buy e.g. one cardigan for this. Then you can find one, for example shirt og skirt/pants, which can also be used for cardigans. This gives you several sets that fit together and that you can mix and match. Accessories can then spice it up or down, depending on the apartment it is to be used for. When you buy some new clothes in the future, you can supplement the new clothes with the previous sets, so you always feel that you have some new clothes sets to choose from.

We love Denize's and Vivis' styling tips which make the wardrobe more manageable, and give good ideas for how to start your vintage style wardrobe, and not least build a wardrobe so you get the most out of it. A huge thank you! Also a special thank you for being allowed to have a look at Vivi's creations from the past, and we are proud to have slipped through the eye of the needle at a real clothing connoisseur.
We think it was great to have the chance to 'meet' Denize and Vivi and to get to know them better, thank you for the beautiful pictures, the always fantastic product reviews as well as for this inspiring portrait.
Regards,
Team Mondo Kaos
---
1 comments
---
---