Christmas dresses at Mondo Kaos Christmas 2021
What is Christmas for you? Is it traditions, nostalgia, the soft light from candles, and coziness in front of the wood stove, or maybe Christmas lunch, J-day, party and colors, or a good mix of it all? Old and new traditions that meet in parties and Christmas fun!


One thing is certain; after skipping last year's christmas parties, we are more than ready to celebrate christmas in a (hopefully) normal way again. Perhaps in the midst of all the hustle and bustle and joy of having Christmas back, we also find moments of reflection on the joy of being able to celebrate with loved ones again. Perhaps this year we have become even more aware of what the Christmas season means to us and how we want to spend that very special time in the last month of the year.
I Mondo Kaos We have brought the most beautiful things home to you, and there is plenty to choose from. There is Christmas dresses for Christmas lunches and Christmas dinners, and everything in between, so whether you still feel that it should fit a more intimate and family atmosphere, or it should be an outfit for the big Christmas party, we definitely have a wonderful vintage style Christmas dress or Christmas outfit for just you.
See vintage style Christmas dresses from Mondo Kaos
It's sour, it's true December!
Christmas is not just Christmas Eve. There are Christmas lunches and Christmas parties, and if you just love Christmas, you might also want to be a little extra festive for Advent or throughout December. Maybe you are not normal to go in red, but think the mood is to go in red dresses in December.

To the perfect Christmas dress are you probably looking for something that is festive and a bit Christmasy without immediately looking like a Christmas tree or being costume-like.
Dress in the colors of Christmas with a new vintage style Christmas dress, a festive outfit or clothes with a discreet winter theme.
Be festive in a red or green Christmas dress, or find a color that suits you, and add gold, silver or glitter accessories in the style and quantity that suits you.
Christmas dresses in flattering A-shape
We have lots of dresses and outfits that you can wear at Christmas time. If you are looking for a dress that is fine for everything, maybe with a little nostalgic touch, an A-line dress is absolutely perfect.
The A-dress fits beautifully on most people, and it is comfortable and easy to wear. The A-line dress does not sneak up to the body like a pencil dress, so there is plenty of room to take care of the Christmas goodies. In addition, our A-line Christmas dresses are often made from original patterns from the 1940s, and it gives them a fine nostalgic glow that fits so perfectly with Christmas.
Do your A-line Christmas dress well be a little sexier, we have for example the amazing Florance from The Seamstress of Bloomsbury, which with its transparent net top takes the best from 2 worlds. Or the new beautiful Shelly, which with its sweetheart neckline and draping, has a perfectly sweet 40s elegance.
Of beautiful and comfortable A-line Christmas dresses in red, we have e.g. a wrap dress or one of the fine shirt dresses or maybe an Ava dress. The A-line dresses are perfect for Advent coziness and festive gatherings, and they can easily be styled for extra Christmas fun with everything from brooches, beautiful glitter bracelets from Rock it Rosie or a small scarf in Christmas colors.
Should the Christmas breakfast dress be a pencil dress?
If you are going to Christmas lunch, it may be that your vintage style Christmas dress needs to be a little more festive and / or close to the body. You may be looking for a pencil dress in red or green.
We have, for example, a pencil dress with long sleeves, Jensen from The Pretty Dress Company in burgundy or green, which is suitable for Christmas dresses. There is also the beautiful Estelle dress with cross-over effect in a stunning purple and a beautiful deep cobalt blue.
Should it be a real one cocktail dress for the Christmas party, there is another novelty, namely Anais, a black dress with wide satin straps and a beautiful, sexy sweetheart corsage.
Last but certainly not least, there is also the new 60s inspired Dolce Vita from The House of Foxy, which is in cotton satin and sophisticatedly sexy!
There is plenty to choose from and there is absolutely sure and a pencil dress to make just your Christmas party an unforgettable evening.

A beautiful and festive Christmas dress could suitably be the swing dress. The swing dress sits close to the top, and has a festive swing skirt, which is perfect for the dance floor and a real 50s Christmas atmosphere. Should it be even more festive you can add a petticoat. The red classic swing dress sleeveless, is also super cute as a Christmas dress with eg a sweet sweater from Heart of Haute over.
See our beautiful Leyla dresses from Unique Vintage? Leyla comes in green and purple.

Maybe you fancy a Christmas swing skirt instead.
You can also choose one of the beautiful ones swing skirts and add a red top.
We also have the two beautiful Christmas skirts from Heart of Haute with novelty Christmas prints in a really vintage style. One with a super nice motif of birds and holly on a beige background, the other a beautiful and nostalgic red skirt with big blooming poinsettias on. Both are great to style with a solid color matching or contrasting top.
What color should my Christmas dress be?
Of course, it is obvious to wear red dresses and red clothes for Christmas, but it does not always have to be red. You can put your own stamp on the Christmas look with jewelry or a small scarf, and make it more or less Christmas depending on how you style it.

Red and green can easily be used all year round, and if you want a more toned-down Christmas look, it is obvious to style, for example, a red shirt with a black bottom.
You can be sure of an ideal Christmas dress if you choose red, but of course we always have many different colors to choose from. You can also choose a beautiful Christmas dress in eg green, and wear it with red accessories. How about, for example, a swing dress in green with a red petticoat? Of course, your Christmas dress can also be a completely different color, eg purple. Did you know, for example, that the Advent color is purple? Purple is also beautiful along with both gold and silver glitter.
Checkered and velor for Christmas
Just like in English-speaking countries, we have started to take dice as something that suits the Christmas mood. Therefore, you can also choose one Christmas dress in e.g. tartan checks.

In addition, we have the beautiful ones Christmas dresses in velor from Very Cherry. And we not only have dresses but soon also the most beautiful velor trouser suits will come in a festive cut, perfect for you who want something other than a Christmas dress. The colors are beautiful and come into their own in the dim lighting and by candlelight.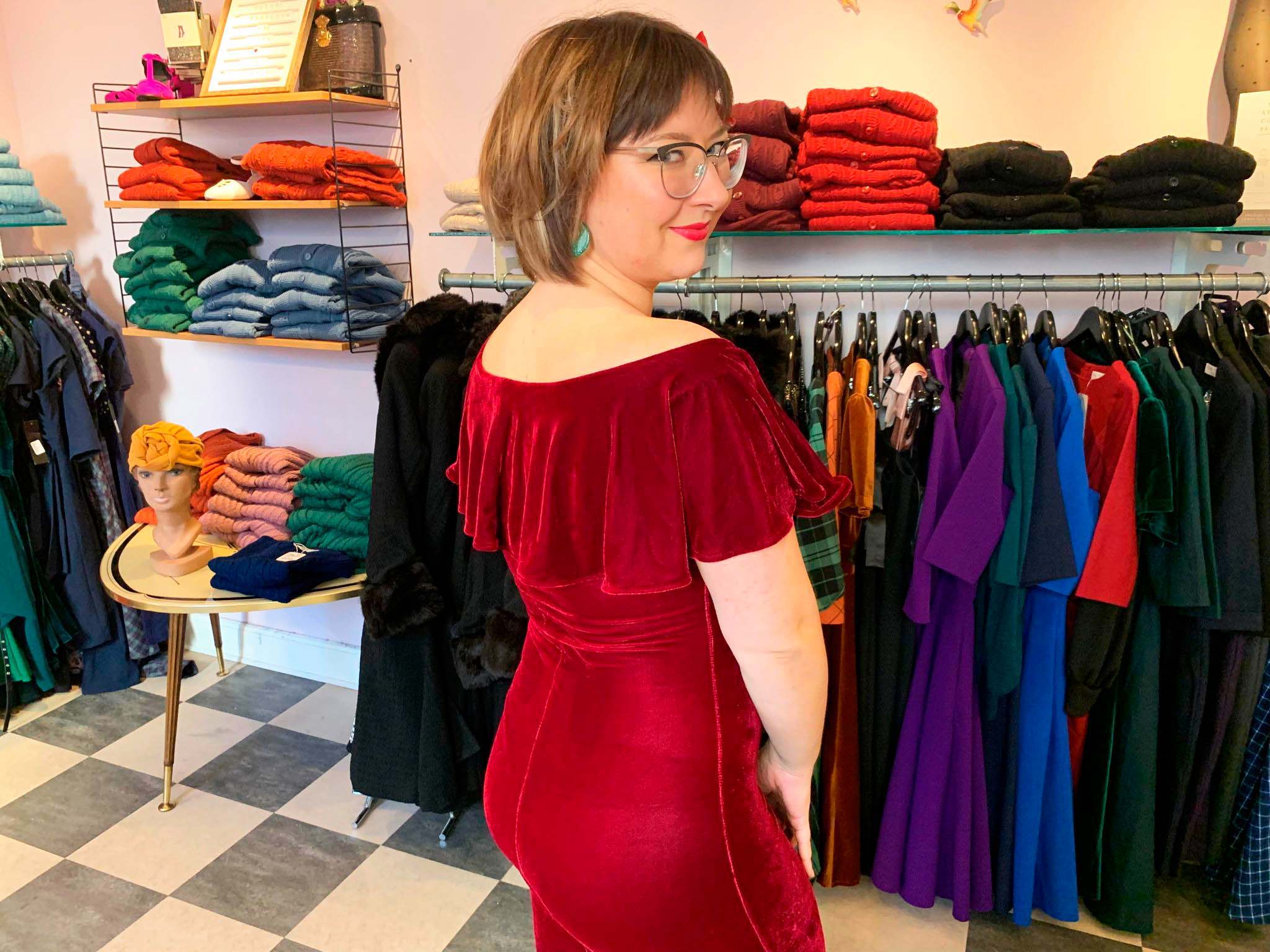 If you are more into a classic cocktail dress for your Christmas parties and Christmas fun and are not afraid of sequins and slimline jumpsuits, so watch when we immediately present you with all our new New Year dresses. It will be a wonderful selection of vintage style New Year's dresses, for the big New Year's party or for those who want a festive and a little more untraditional Christmas look.
We hope you have been inspired to find the perfect vintage style Christmas dress for Christmas 2021.
Best Christmas greetings,
Team Mondo Kaos.
---