Our guide to the Elmegade neighborhood in Nørrebro
Elmegade / Birkegade in Nørrebro
This year, 6 of this year's top 10 best-selling travel guides are travel books about Denmark, and of course many also take the trip to Copenhagen.

If you are going to Copenhagen for a short trip, maybe an extended weekend or a friend trip, then of course we think you should come and greet us.
In "our" neighborhood there are, besides us, lots of interesting shops and cafes. Elmegade and Birkegade actually consist exclusively of small independent shops, and are a really good bet for those of you who are tired of all the streets looking alike with the same big chains, both in gastronomy and clothing. So here is a small guide to the local environment around Mondo Kaos.
How do I find my way to Mondo Kaos?
The streets Elmegade and Birkegade were built in the 1880s, and the houses are close together, just as the streets have fun arches, so that you could fit in as many buildings as possible, as you were bounded by Mosaic burial ground on Møllegade.

Many of the properties were built by foundations; see for example no. 6 in Elmegade which was the Beer Dealers' Association's foundation, and the street number has beer barrels and a man drinking a mug of beer.
You can reach us easily either by a bus from Nørreport, 5A out of Nørrebrogade where you get off at Elmegade, or you can go from Nørreport. If you are in a car, you can park in the parking garage on Blågårdsgade. If you are a tourist in Copenhagen, there are also many who rent bicycles, it is Copenhageners' own preferred means of transport, and virtually all bicycle blacksmiths also rent bicycles.
Our beautiful florist that we always use Mondo Kaos is Blomster Bjarne. OK, so the flowers might be more for those who don't come from very far, but just look how beautiful the flowers are. Here we have been allowed to take pictures of Nanna in the inspiring flower shop.
WE always have many ourselves dresses in floral prints to choose from in the store.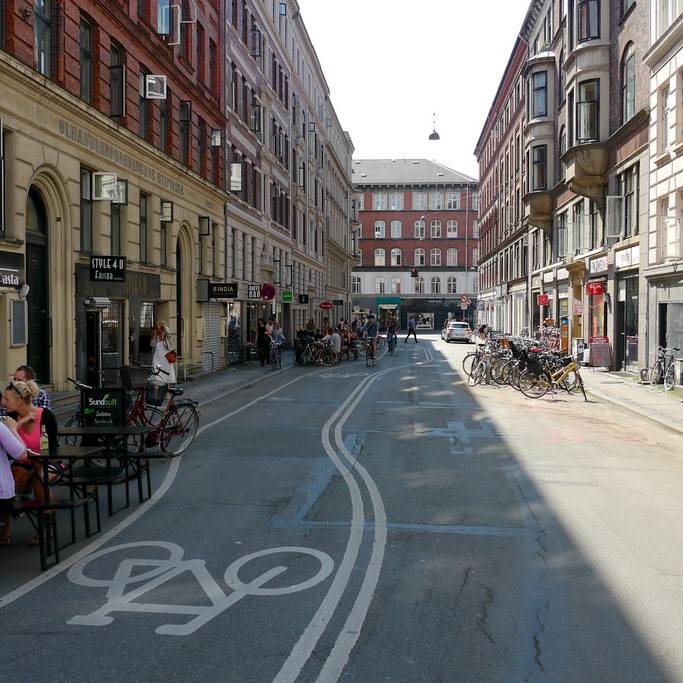 Beauty, well-being and new hairstyle
Do you need a real pampering trip to the capital? Maybe with beauty, new hair, makeup and nails? Then you have come to the right place.

There is, for example, Loukita if you are looking for the right Nørrebro atmosphere. Lou has run his salon with a 'Nørrebro living room' atmosphere since 2008.
If you need skin care or have your nails done, Elise skin care is the right place. Elise focuses on facial treatments and nails. You can therefore turn your trip on Elmegade/Birkegade into a real spa experience before you come down and greet us in Mondo Kaos.
Coffee break and lunch in Elmegade
In addition to shops and beauty, there is of course gastronomy. You get everything from breakfast cereals and croissants, over lunch and coffee to beer and drinks. The choice is yours.
Lärke takes coffee at the cozy new cafe in Elmegade 5. You can also choose Laundromat, which is just across from Mondo Kaos, and is a real Nørrebro institution, because here you can wash clothes while enjoying your latte.

Should you have lunch there are plenty to choose from, maybe Indian? Or Healthy Hunger which offers salads and sandwiches on wholemeal bread or rye bread.
There are also classic cafe lunches at one of the many cafes.
When you have finished your lunch / coffee / cake or whatever it is, we suggest that you remember to pee when you first try dresses with us, we unfortunately do not have that kind of facilities.
Find your vintage style outfit at Mondo Kaos
If you have dragged your husband / boyfriend / boyfriend on a trip, there are several really smart shops for him too; Native North, Lakor or Packyard to name a few. Put him off in one of them, and you will have a little more time with us.

Is it your first time visiting Mondo Kaos the store in Birkegade? Are you perhaps a webshop customer, or have you wondered about the beautiful ones dressr could be something for you? Then finally tell us, and if you know there is something specific you are looking for / something you have looked at webshop as you would like to try, you have already helped us on the way to finding something just for you. In any case, we would really like to show you our beautiful store with a large selection of retro and vintage style clothing.
Bars and drinks in the Elmegade district
If you need to have drinks, there are also many things to choose from in our hood. We've mentioned the beautiful Art Deco style bar Flat Iron before, but another of our favorite bars is The Mudhoney. The Mudhoney is also a café, and their slogan is COFFEE, SHAKES & BOOZE, as they are open both during the day and in the evening and serve a wide range and focus on the meeting between coffee, milkshakes and drinks.

Carina is visiting the bar wearing the beautiful Hilda dress from Heart of Haute.
Product not found. Have you uploaded products to your store?
Product not found. Have you uploaded products to your store?
We hope to have given you some inspiration for a wonderful day in Nørrebro in the spirit of self-indulgence. And then we really look forward to seeing you in it Mondo Kaos in Birkegade 1.
Regards,
Team Mondo Kaos
---