Gingham - All about the famous dice
For this summer season, we have got a lot of fantastic styles in the popular gingham checkers.

On the blog today, we take a look at the famous dice, while we show you all the great news in the popular pattern.
Where does gingham come from?
There is much disagreement about who invented the exact gingham weave, a weave consisting of only two colors of thread, but which forms the two colors plus a mixture of the two. It may have originated in several places at about the same time, but one version is that it originates from the city of Guingamp in France, a captivating idea, as it explains how the not very eloquent word gingham originated. It may also have come from Malaysia, where it is called vengeance, which means separate, or from Vichy in France, as the terns in France and Spain are called vichy tern ...

However, there is some agreement that it appeared in fashion in the 1700th century for the first time, and that it is associated with a certain simplicity and the home.
In Denmark we use both kitchen cubes and Pepitatern, but Pepitatern is actually a slightly different black and white weave, and kitchen cubes are just not very cool to describe your clothes as, right?
The substance stands more than anything else for the 'home', it is rural idyll, nostalgia, and a longing for the simple life. At the same time, it is youthful and summery. Since fashion and history are connected, gingham checkers have been used throughout the 20th century in fashion to create associations with these virtues.
If we jump to the 1900th century, there is no doubt that Gingham has filled a great deal and has actually had a come back in every single decade. Each decade has used the familiar dice in its own way and highlighted it to fit into the prevailing time ideal.

Gingham is first and foremost traditionally a very durable fabric in durable cotton. The fabric is also the same on both sides, and therefore it was practical for the homeowner in the first half of the 20th century. It was used for children's clothes and kitchenware, but from the 1920s-1940s, it also became popular for adults such as. summer and the new smart beachwear.
Maybe it's from there that it's going to be the ultimate 'summer ter'?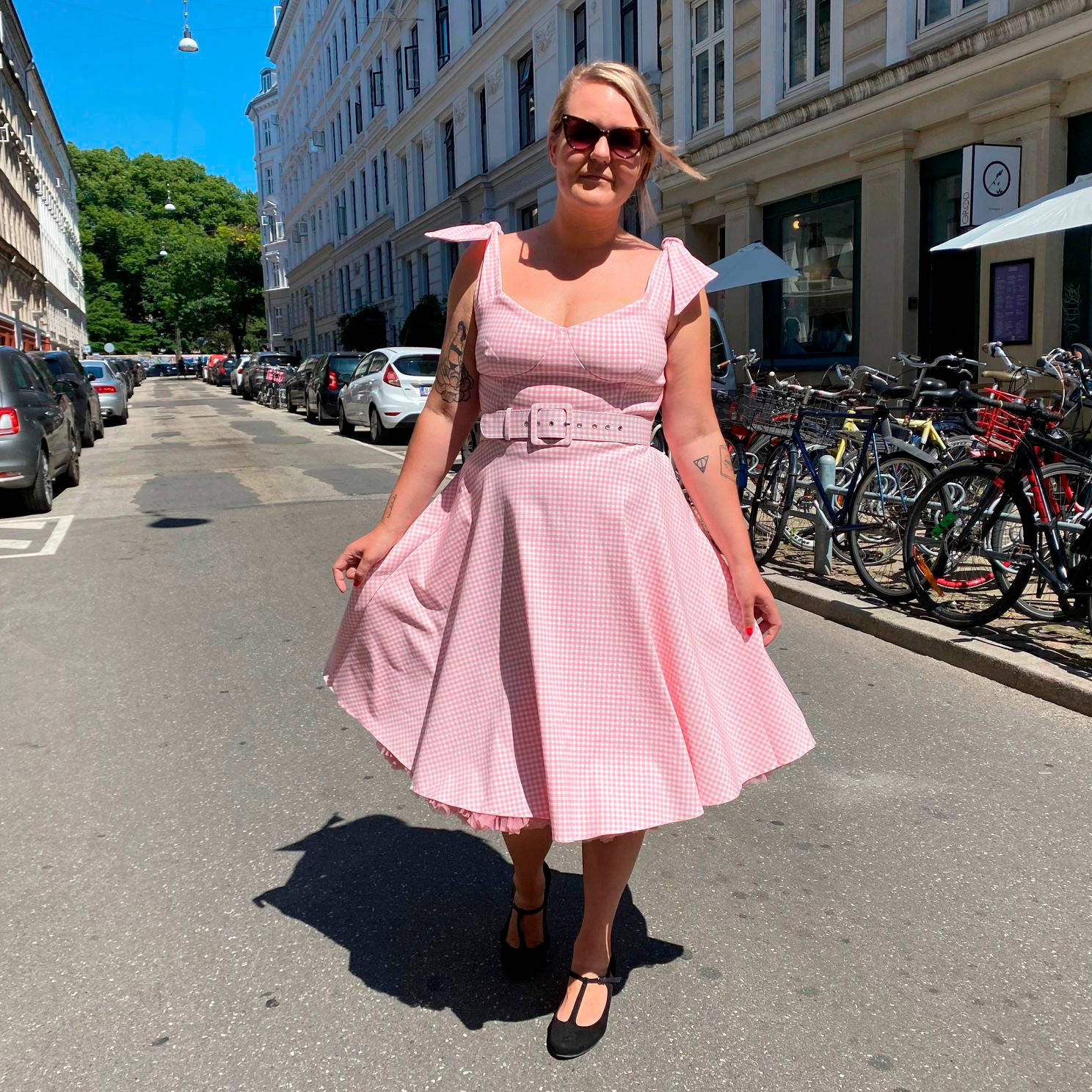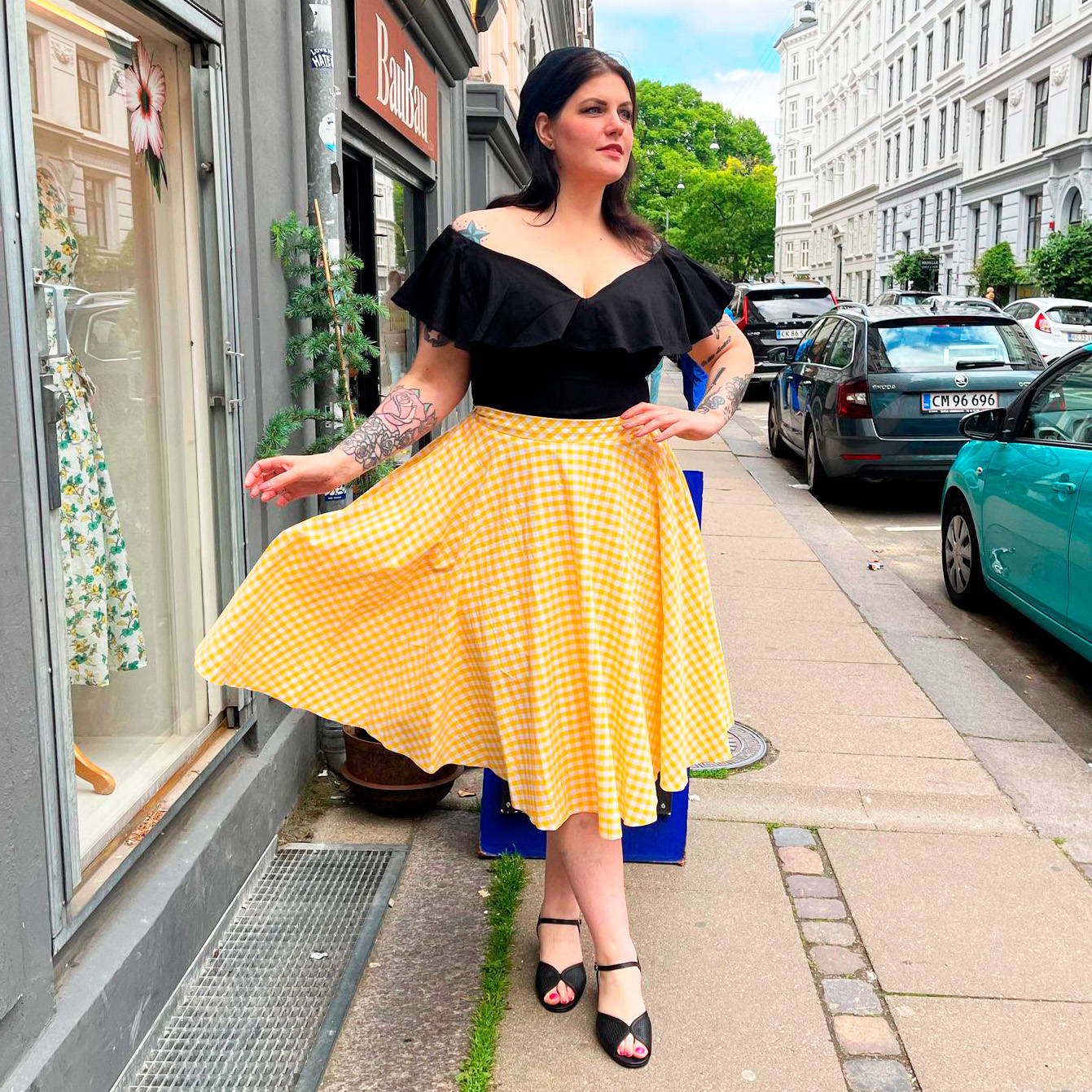 Gingham goes to Hollywood.
In 1939, gingham comes on the big screen for the first time! And it's really big! Dorothy in The Wizard of Oz wears the famous light blue gingham dress. The dress symbolizes childlike authenticity and the rural idyll. In fact, it is said in Hollywood that gingham is used for costumes to express that "there's no place like home" - a bit "out well at home best".

Also in the 1940s we see popular actresses in gingham dice, they are adult actresses and the dice even appear in the Film Noir genre. Lauren Bacall in "To Have and Have Not" and Ingrid Bergman in "Notorious". Also Katherine Hepburn wears gingham in the movie "The Philadelphia Story".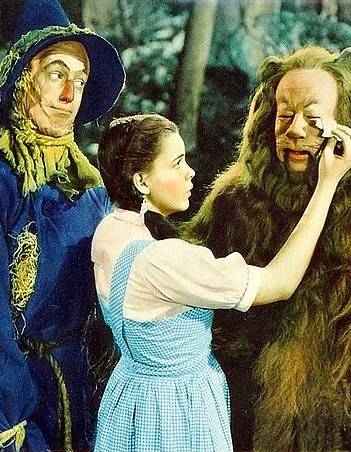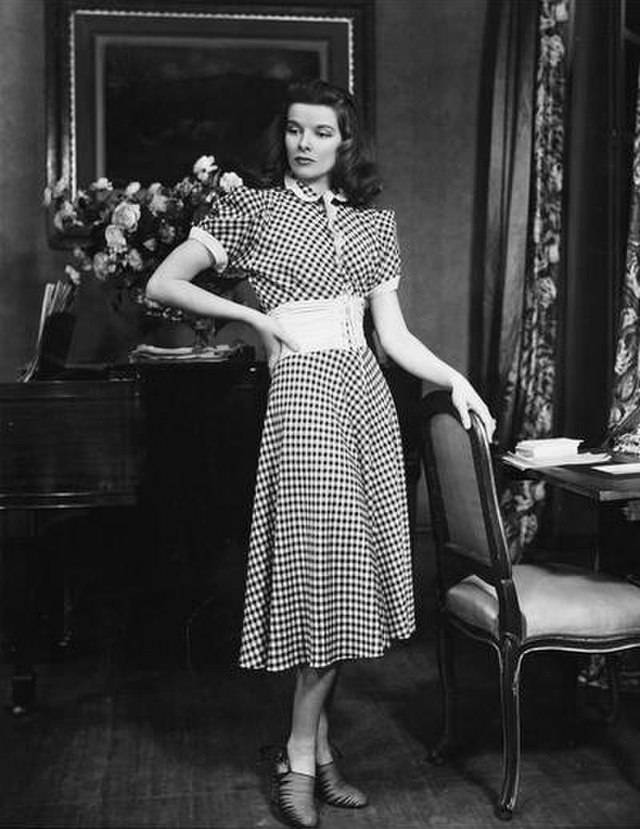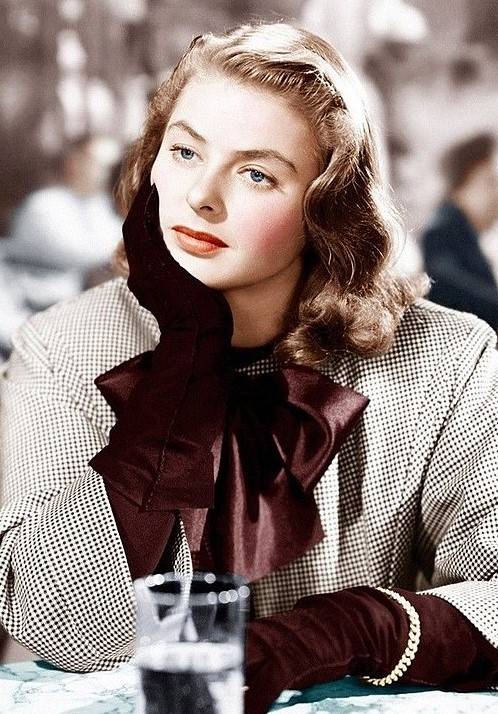 Audrey, Brigitte and Jackie in gingham outfits
In the 1950s, gingham is again quite big. The women were mostly back in the home, and the terns are most often delicate pastels that fit this decade.

In the USA, it is Doris Day, among others, who rocks the style with gingham, and country and western music takes gingham as a 'trademark' for the patriotic style. Brigitte Bardot makes the checkers super hot when she, as the biggest It-girl of all time, gets married in a pink gingham checkered swing dress. Icons that carry gingham in the 50s and take the famous dice with them into the 60s are, for example, Audrey Hepburn and Jackie Kennedy. Audrey Hepburn is known for the gingham pants look, worn with a simple top and ballerinas.
Gingham from miniskirts to 80s pastels
Also 1960s gingham dice look in the fashion picture. Here the colors are stronger, 'more fun', and you see the typical 60s models such as pants and miniskirts in gingham. It's the 60's obsession with young people that probably comes into play here.

Again in the 1970s, gingham becomes popular, and here it is nostalgia and the countryside that come into play, it is long dresses and ruffles, perhaps with a touch of country and western. And in the 80s, it is the pastels and slacks that come into vogue in gingham form. Yes, even the 90s that were thought to be too engrossed in grunge use the terns in new ways, especially interpreted by the designer behind Comme des Garcon.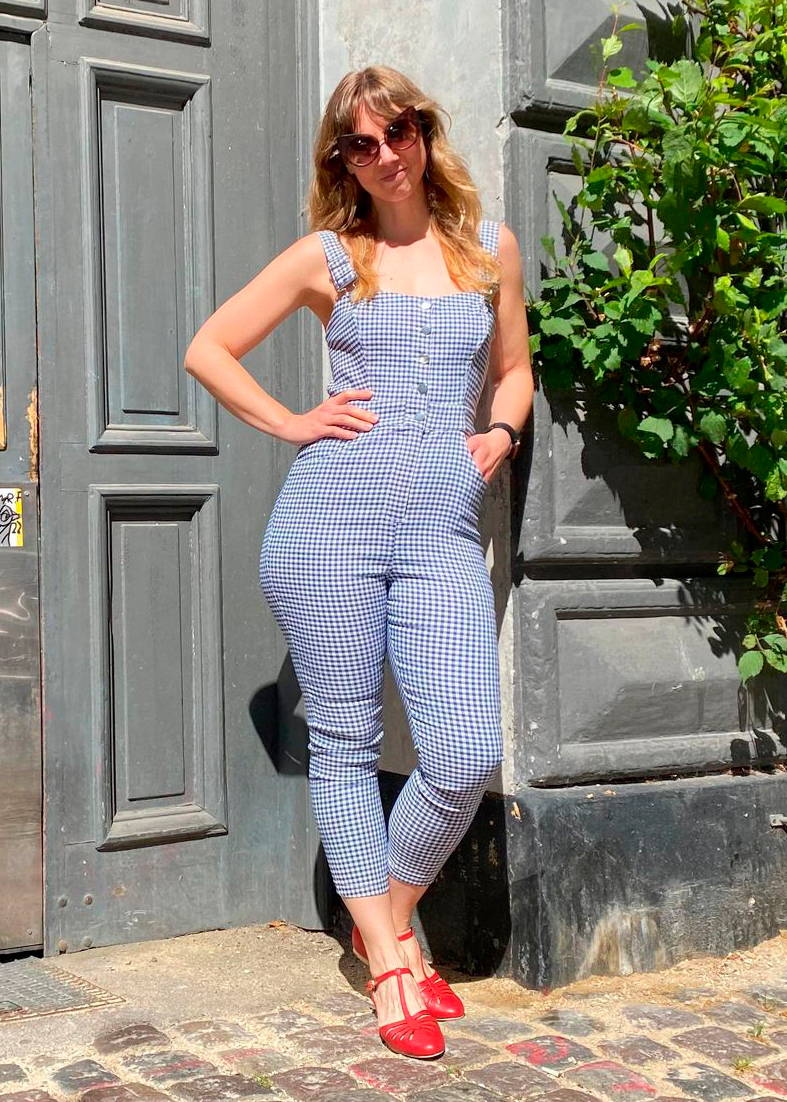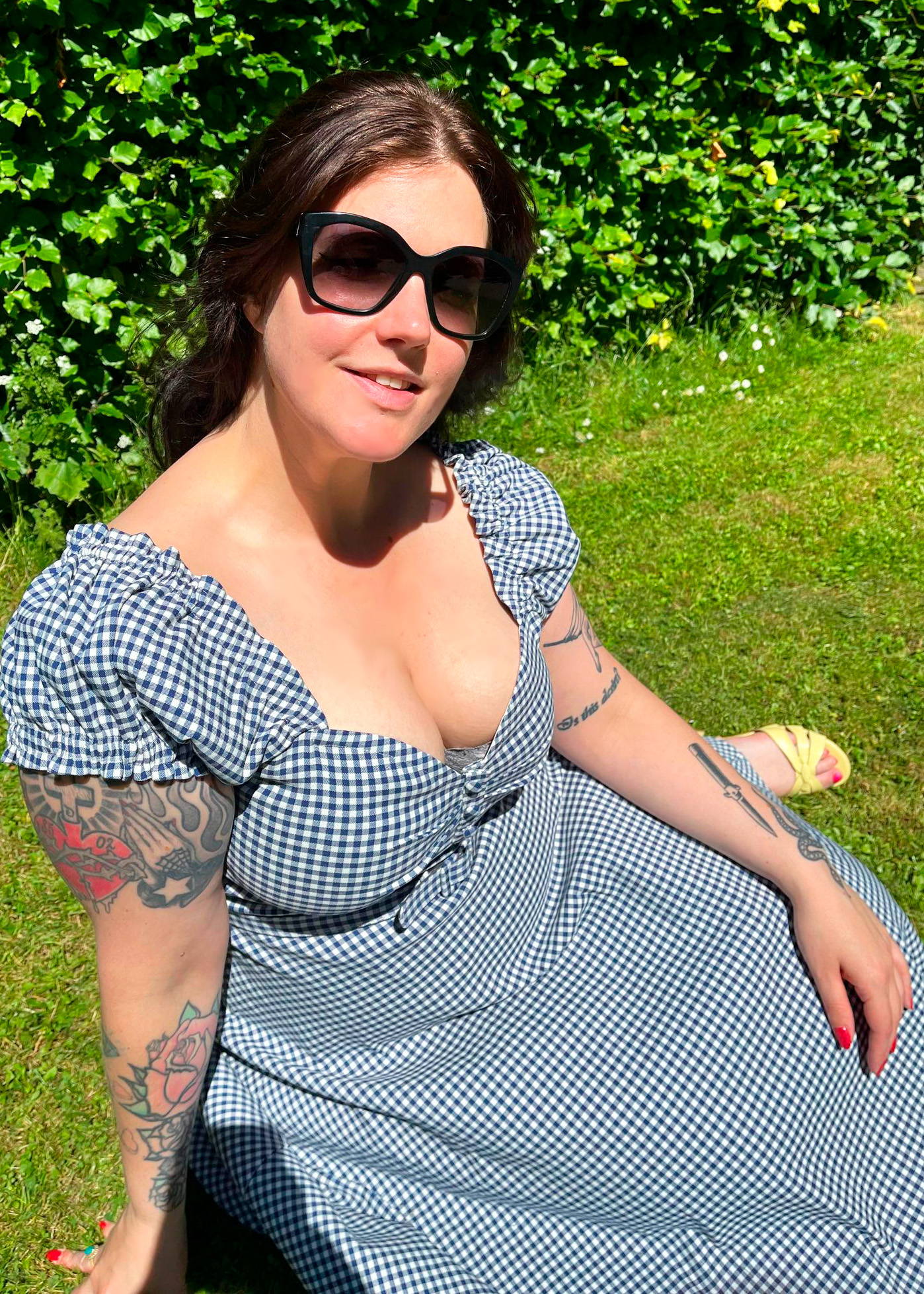 Gingham in Mondo Kaos summer 2022
Now we have come to the many wonderful gingham summer dresses and summer styles at Mondo Kaos.

We have both beautiful dresses and trouser suits in the famous checkers this summer. We have got a lot of different summer dresses in gingham checkers, many are inspired by the 50s, with the swing skirts and the lighter pastel tern, but there are also dresses in the fit 'n' flare style and some beautiful 60s inspired trouser suits.
From Heart and Haute come 2 beautiful summer dresses; our bestseller Hilda in swing style, which can sit both on the shoulder or straight off. It comes in summery light yellow cubes. Betty-Lou is a new dress with us, which is a nice cut between swing and A-line, and with nice buttons down the front. It comes in both yellow and orange, and with its lapel collar and shirt look, is a really good everyday gingham checkered dress, and the look is a little simpler.
Unique Vintage gives us two fantastic overalls / trouser suits for summer use in pink and blue checkers. The suit has braces and a cute sweetheart neckline and can easily be styled with a T-shirt or simple blouse underneath. From Unique Vintage also comes 2 fantastic dresses, namely Ohara with small puff sleeves, and the Prairie dress that is tied at the shoulders.
Two simple summer dresses in gingham come from Very Cherry, it is the favorite dress Sunny, which with its simple A-cut, is a fantastic versatile dress. Last but not least, there is the skirt with the yellow checkers from Pretty Dress Company, which can easily be styled for both a light summer look, or a cooler look, like Stine here with a black top and accessories.
If you need more advice and tips for styling your summer dress with gingham, look past the store where we are ready to help you with your summer wardrobe.
Summer greetings,
Ditte and Team Mondo Kaos 💋
---