Autumn news and autumn colors in Mondo Kaos
Autumn in your vintage wardrobe
Towards the end of each season, it happens that you suddenly long for the new season that is just around the corner. And when we reach October, we are captivated by the first whiff of a bite in the air, and walks where we enjoy the beautiful autumn colors.
If you are otherwise happy with your wardrobe, you might also start longing to unpack the warmer dresses, warm trousers and knitted sweaters, layer upon layer, and you long for completely different colors than those the summer wardrobe offered.
The autumn collection in Mondo Kaos offers plenty of news and bestseller repeats in beautiful autumn shades. Today we present some of the news and talk a little about the beautiful colors and patterns that belong to the season.
What are classic fall colors?
These are the colors of nature that we see again in our wardrobe. This means that when the days get shorter, the temperature drops and the leaves start to fall from the trees, we start to want to wear colors that match.
Some colors are classics, they belong to autumn and never go out of style. The most common fall colors are colors like brown, burgundy, gold and dark green and they all compliment each other, making them easy to wear together and mix and match. These are also the colors we see when we go for a walk in the autumn forest.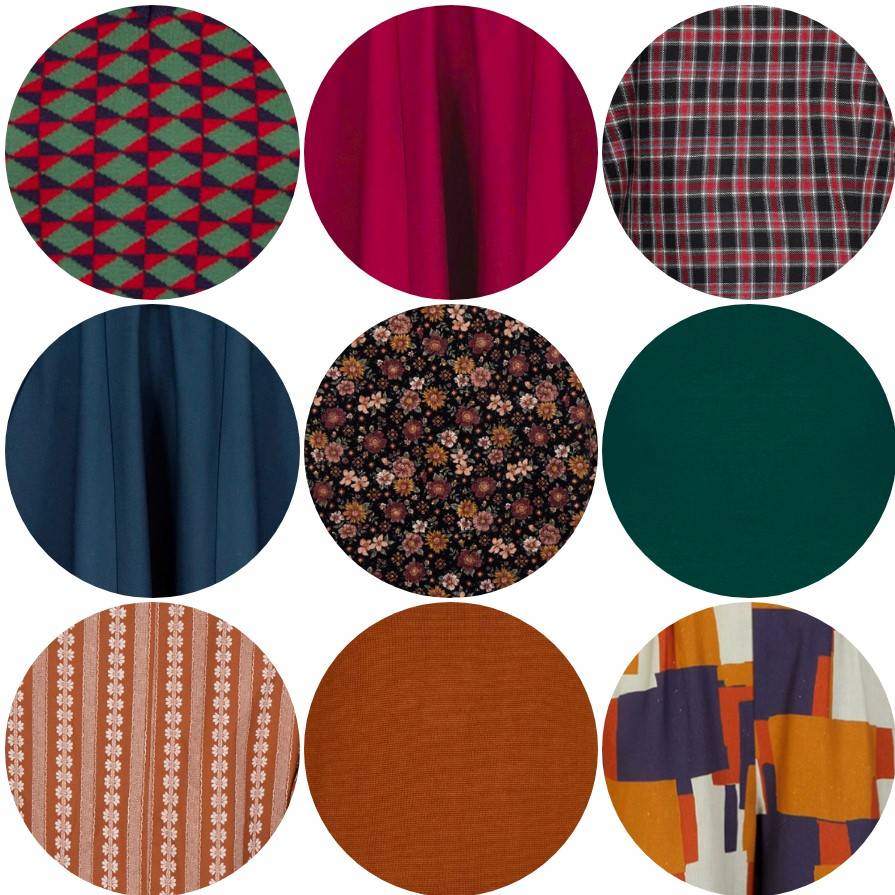 The new autumn colors - 2022
In addition, there are both colors that compliment the ones just mentioned and some colors that creep in that are more fashionable, in the way of understanding that maybe they could also be seen in another season, or maybe it is a shade of some of the most classic autumn colors which suddenly become very popular. It can be colors such as teal and magenta, colors that also look great with the autumn palette.
This year we have the beautiful Berry color, which you can choose instead of the classic burgundy or red. The more reddish brown can also be found among this year's colors, and there is also the fine 'pine' green, moss green or olive in the color that we see in this year's collections.
Green has been a super popular color both in spring's mint and pistachio and summer's emerald, so it is no surprise that it will appear again this autumn in a beautiful faded autumn shade.
And then the beautiful, clear purple has come in both dresses and a classic long-sleeved trouser suit. Watch here.
Vintage knitwear in beautiful autumn colours
As always, we have the beautiful ones Emmy Design Ice Skater cardigans. There are as many as 10 beautiful colors to choose from, and we see e.g. a lot of different brown, reddish brown and berry shades. There is of course also mustard and teal and there is also the beautiful pine green.
From Emmy we also see the short-sleeved Sweater Girls Staple Sweater, perfect for autumn and winter in pure and soft merino wool, and again in the most beautiful autumn colours, as well as off-white and light blue. Match the color to your Ice Skater cardigan, for a complete vintage sweater girl look.
The fine Staple sweaters from Emmy are beautiful both with high-waisted trousers and with a swing skirt.
Or how about the fantastic Emmy knit dress; Ice Princess? Perfect for the cold season. With its short skirt and small pompoms at the neck, the dress is worthy of any skating princess. And it is both charming and flattering. Perhaps this season's must-have! (Ice Princess dresses are preview - keep an eye out, it's right on the stairs!)
The sweater girl look was big in the 1940s and 1950s. It started as a bit of a pinup look, for actors such as Jayne Mansfield and Lana Turner. It was the ribbed jersey that could fit all the way to the body and show off all the attributes. The popular bullet bras were widely used for this look, and one often associates the popularity of this look with the new bra technology that made the new bras possible. However, there were many other 'sweater-girls', with more moderate silhouettes.

Vintage style fall dresses
As always, we get the wonderful shirt dress from Very Cherry. For autumn, the dress comes precisely in the finest shades of autumn leaves. The shirt dress can be found in beautiful patterns in shades of brown and purple, and lovely warm fabrics.
The solid color dresses are in the soft railway velvet, and then it is 100% cotton. Railway velvet has a beautiful structure, gives a nice vintage flair, and the narrow stripes in the weave are also quite flattering.
And there is the Hollywood dress in beautiful velor in several colors and patterns. The Magnolia dress is also right on the stairs
In addition to wool and shirt dresses, there are two new dresses from Emmy on the way, namely the Midwinter Midi, which, despite the name, is no warmer than it can easily be worn in autumnsonen too, and the super nice shirt dress All Day Everyday dress.

Also Zoe Vine, brilliant with beautiful autumn colours. See the new dresses i.a. Agnes, a beautiful swing dress with a shirt look, in a clear red berry and in purple or the popular Katie, which has returned for the autumn-winter season 2022 in three beautiful colours.
Very Cherry autumn blouse
From Very Cherry there are also blouses and tops in beautiful autumn colours. If you are not into Emmy's wool, you can join us here, in Very Cherry's wonderful soft viscose, with the brushed underside, for extra warmth.
The shades are again brown, burgundy and green and thus fit perfectly in the palette, and can easily be mixed and matched, also across brands. In addition to our best-selling boatneck tops, this year we get Mina, a really nice sweater with a discreet hole pattern at the shoulders.
Both fine viscose sweaters are super easy to style, and the perfect basics for your autumn wardrobe.
Also, don't cheat yourself for this season's absolute must-have, and a classic in the vintage wardrobe: the waistcoat or the slipover. We have the one from Bloomsbury with twists, or from Palava in the most beautiful jacquard knit. Perfect over your shirts.
Vintage style autumn trousers and pantsuits
In the end, you shouldn't be cheated for trousers and trouser suits for this fall season.
It is clear that we will get the popular Very Cherry pantsuit again. The pantsuit comes in velvet, denim and gabardine and all with long sleeves. Or how about the most beautiful velor trouser suit, in beautiful colors or with the fine Santa Rosa print on a black background. If you love Very Cherry's trouser suits, don't be fooled by this season's beauties.
From Very Cherry we also have a pair of super flattering high-waisted denim trousers. If you're into wide legs and denim, check out the Marlene pants, they'll be so pretty with autumn's fitted sweaters, from Emmy's Staple Sweater to Palava and of course the nice boatneck and Mina sweater.
From Emmy Design we get several fantastic trousers, in complete vintage style, and we dare say that it will be extremely difficult for the trouser girls out there to choose, and also for those who normally prefer dresses, there is exciting news.
Let's start with the Sleek Palazzo, which is the fine well-known palazzo cut, with good width in the legs and a nice high waist, for the most beautiful silhouette. The trousers are in a luxurious cashmere blend and in black, so they are really versatile. In addition, there are Hep Hepburn slacks, which have pleats at the top and go in at the bottom. They go to about the middle of the calf and are perfect for e.g. high boots. New Knickerbockers from Emmy are a must-have in any vintage wardrobe. They add extra flair to any vintage look, and they're super comfortable. Last but not least comes Skorts from Emmy. Emmy's pinafore skorts look like a flared miniskirt, but are actually shorts, with braces included.

We hope you have seen something that makes you want to jump into it when you go out and enjoy autumn, or cozy up at home on the sofa, or just some nice clothes that make the often slightly wet autumn days easier to get through.

Best autumn greetings,
Team Mondo Kaos
---