Worth knowing about Hollywood icon Betty Grable
"There are two reasons why I became famous, and I stand by them both!" These are Betty Grable's famous words about her 'Million dollar legs'. Today we may know her name, but otherwise it may be limited how much we know about the once celebrated Hollywood star.
We have just received new beautiful Grable dresses from The House of Foxy, so we think it was time to look at who she was, the beautiful Hollywood actress after whom the dress is named. Read on as we tell a little about Betty's life, career and give tips for which of her films you can consider watching.
Betty began her acting career as a 12-year-old when, after the stock market crash, she took her mother to Hollywood to try her luck as an actress. She managed to appear in 33 films as a chorus girl and small supporting roles, before in 1939 she managed to break through when she appeared on Broadway in the musical 'DuBarry was a Lady' which became an audience and reviewer success.
After 1940's screen goddesses, the glamorous divas like Jean Harlow and Greta Garbo, fit Betty perfectly into the more down-to-earth movie star of the war years. A 'neighbor's girl' fresh and straightforward, who happened to be walking around (and looking good) in small shorts and sweater.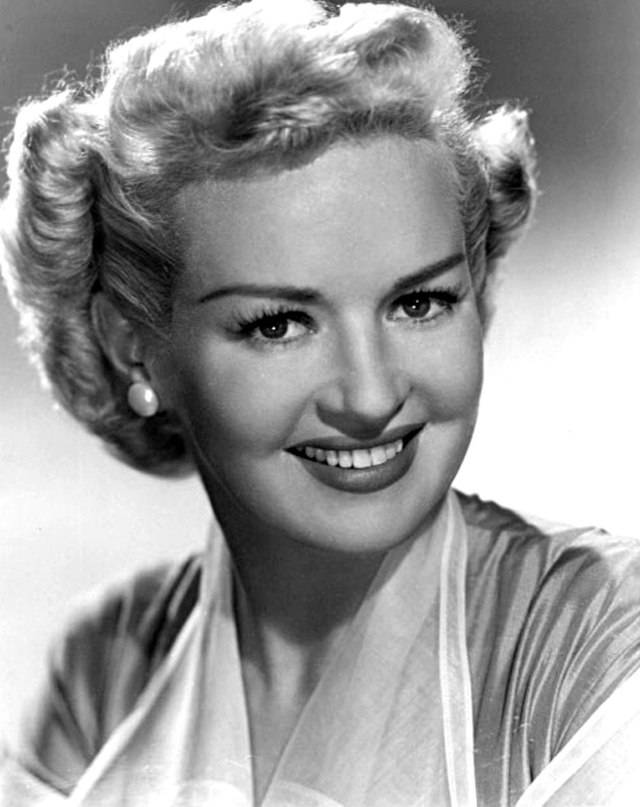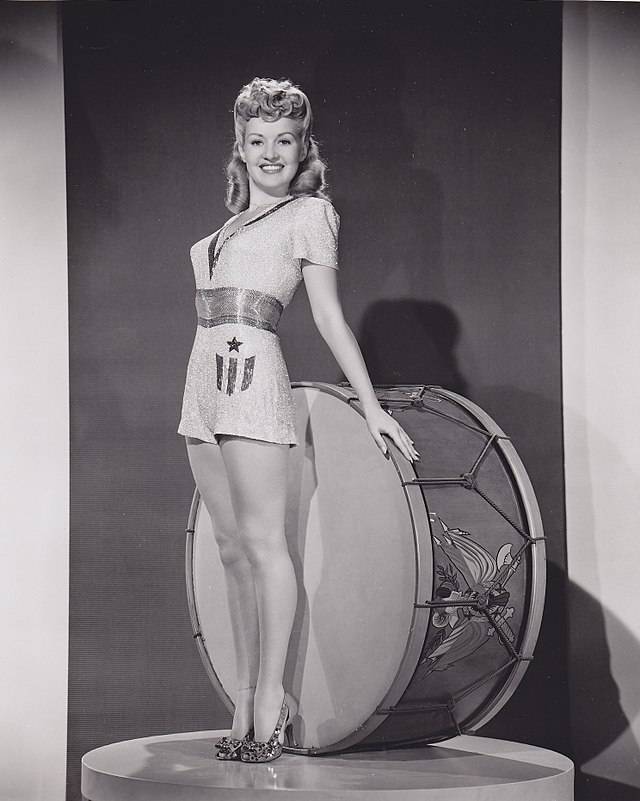 The nickname 'Million Dollar Leg' she got from one of her first starring films of the same name from 1939. At the height of her career, her leg was even insured for $ 1 million as a PR stunt from the film company 20th Century-Fox. On virtually all movie posters and pictures, her bare legs are seen in full length, either in shorts, swimsuit or high-waisted dress. The measurements on the famous legs were: thighs 47 cm fold 30 cm and ankles 19 cm. (length not stated)
That led her back to the movie, where she celebrated one big success after another. She was cast in musicals and comedies whose names probably do not tell us much today 'Down the Argentine Way,' Springtime in the Rockies', 'Coney Island' or 'Sweet Rosie O'Grady', all of which were giant box offices successes in the present.
The world's most famous pinup girl
I 1940's she was the highest paid woman in Hollywood, and in 1943 she was the biggest box-office attraction ever. She outscored stars like Humphrey Bogart, Bing Crosby and Cary Grant!

In 1943, Betty Grable captured the pinup image that would make her immortal. The picture appeared on Life Magazine's list of '100 photographs that changed the world' and made her World War II # 2 pinup girl. It is estimated that Betty's image was owned by every 1th soldier in America during World War II.
Incidentally, the picture was taken by Betty from behind because she was wearing the tight-fitting swimsuit which would clearly show that Betty was pregnant.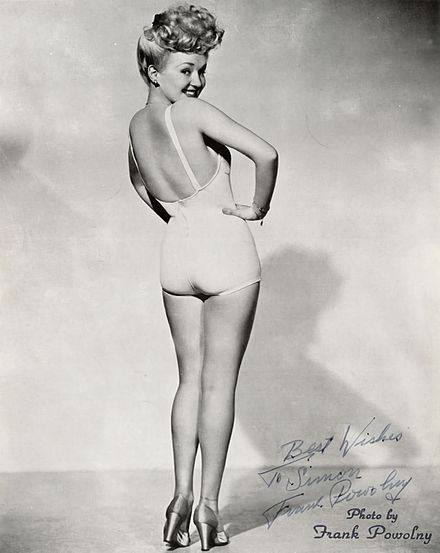 How to Marry a Millionaire?
Betty Grable helped in the famous 'Hollywood Canteen' started by i.a. Bette Davis for soldiers going to war. The Hollywood Canteen provided food, dance and entertainment free of charge for the soldiers, and was run by volunteers from the Hollywood movie world. On one occasion, Sergeant Carl Bell receives a kiss from Betty.
All of Grable's films were light musical comedies cut across a simple formula, which is probably why we do not know them today. The films were immensely popular, and Betty Grable herself did not want to play more demanding roles, she simply doubted her own abilities in the more serious direction.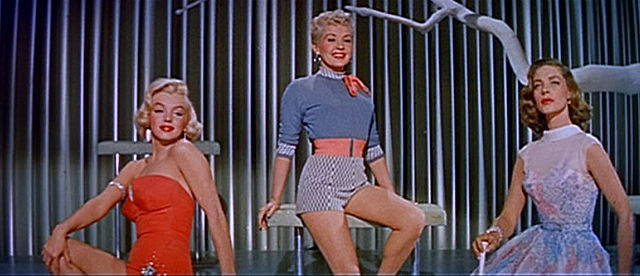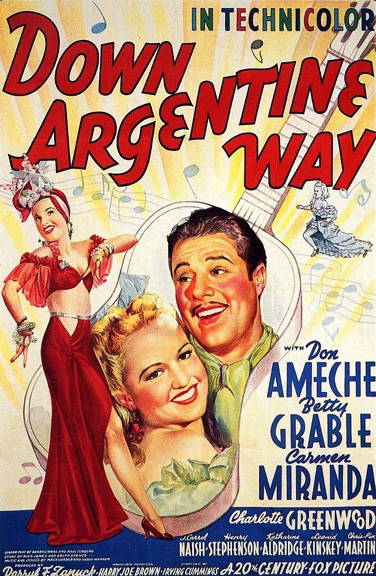 Betty Grable's best movie
I 1940s Betty Grable alone recorded 21 movies! If you feel like watching a movie with the famous Betty, here's a little to start with.
According to movie site Rotten Tomatoes, her 3 best starring films are: 'I Wake Up Screaming' a 1941 film noir, 'How to Marry a Millionaire' the famous comedy starring Lauren Bacall and Marilyn Monroe from 1953, and 'The Beautiful Blonde from Bashful Bend 'also a comedy from 1949.
In the early 1950s, her film career came to an end, and Betty chose to retire completely from film in 1955. She continued on Broadway with the successes Guys and Dolls and Hello Dolly.
Betty died of lung cancer at just 56 years old in 1973.
Grable the dress from The House of Foxy
The beautiful Grable dress which is named after Betty Grable is perhaps more reminiscent of the cuts from the glamorous dresses from Grable's early career. The fluttering sleeves of the dress and the length of the skirt have far more Hollywood diva than the pinup girl over them. The dress however, the big movie star is worthy when it comes to elegance, and then it can be worn both with a piquant keyhole detail, by closing the tie and with the V-neck, by leaving the strap open.
The two new dresses; light yellow 'summer spray' top and red skirt, as well as light blue 'Love story' and teal colored skirt, are designed exclusively for Mondo Kaos, and is not available anywhere else.
The grable dress has super fine details and then the high cut is very flattering for the figure and especially highlights the waist.
The dress has a feminine carrying piece, with small pleats both above and below the bust, which gives a really nice and feminine shape, as well as enough space, also for the larger bust.

The smooth shoulder pieces end in the fluttering, short sleeves, which are both flattering and super comfortable, for example. to dance as they provide full freedom of movement.
The skirt is sewn beautifully in 7 plain colors from the very top below the bust, slips first to the waist, and then falls beautifully with lots of swung down around the hips and thighs.
The dresses are available both in plain, and in combination with patterned top and solid bottom.
Product not found. Have you uploaded products to your store?
Grable Giveaway i Mondo Kaos
Want to join our GIveaway?
How to participate:
1.Go to our Instagram (click here) and find the giveaway post, first give it a ❤️, and then comment on who you would like to share the prize with.
2. Write in a comment to this blog post which one of the Grable dresses you and your friend / sister / mother .... want to win.
How easy it is to enter the competition! We draw the lucky winner on Friday 16 / 7-21 at 12:00
The winner will be notified directly and will be announced on Instagram in stories.
Good luck,
Team Mondo Kaos 💋
---
235 comments
---
---