Authentic Beauties Part 3 - Mondo Kaos goes west
Rodeo glam and festival chic - 70s style in Mondo Kaos
Our latest Authentic Beauties photo shoot, started slightly corona hit, and had to both postpone and change models along the way! Luckily, Lisette, who has almost become a regular 'house model', could jump in, and so could Stine. In addition, today you will also meet Dorte who is the third leaf in the three-leaf clover!
We had a special look in mind with this 3. Authentic Beauties. With our new collection, we have dived a little into the western look, and with a few things, we have even moved up a bit in time. We are approaching with some of the different styles now late 60s and start 70s so in this shoot we spread ourselves with inspiration from the 1950s-1970s.

1970s style with feminine shapes
In relation to the vintage style, we of course still focus on the female figure, although the expression here is a bit more cool and maybe a bit country and rock n roll. Eg. we have taken statement T-shirts from the LA brand Electric West, which has both a little glam rock and a little festival style over it.
In addition, there are the perfect mini skirts in velvet, and a bold trouser suit, all of which have the perfect late 1960s, start 1970s vibe.
And we are super excited to introduce you to new brands in Mondo Kaos!
Rockabellas - great denim news
One of these new brands is the German Rumble59. Rumble59 is the jeans girls' hot dream! We have taken fantastic vintage dresses, skirts and trouser suits home from this brand, and can not wait to show you them at all.
Rumble59 focuses on the cool denim look, inspired by rebels, rock stars and rockabellas.
We have a super cool snug fit denim dress with A-line skirt and a flattering A-line denim skirt. We also have a great vintage style pencil skirt with buttons down the front just like the super popular Wanda skirt. This one is a little shorter than Wanda, more like a classic pencil skirt length.
NOTE! You were so happy for both denim dress and A-line skirt that in no time sold out. But we hurried to order more so they will come again next week and this time all the way up to size 5XL.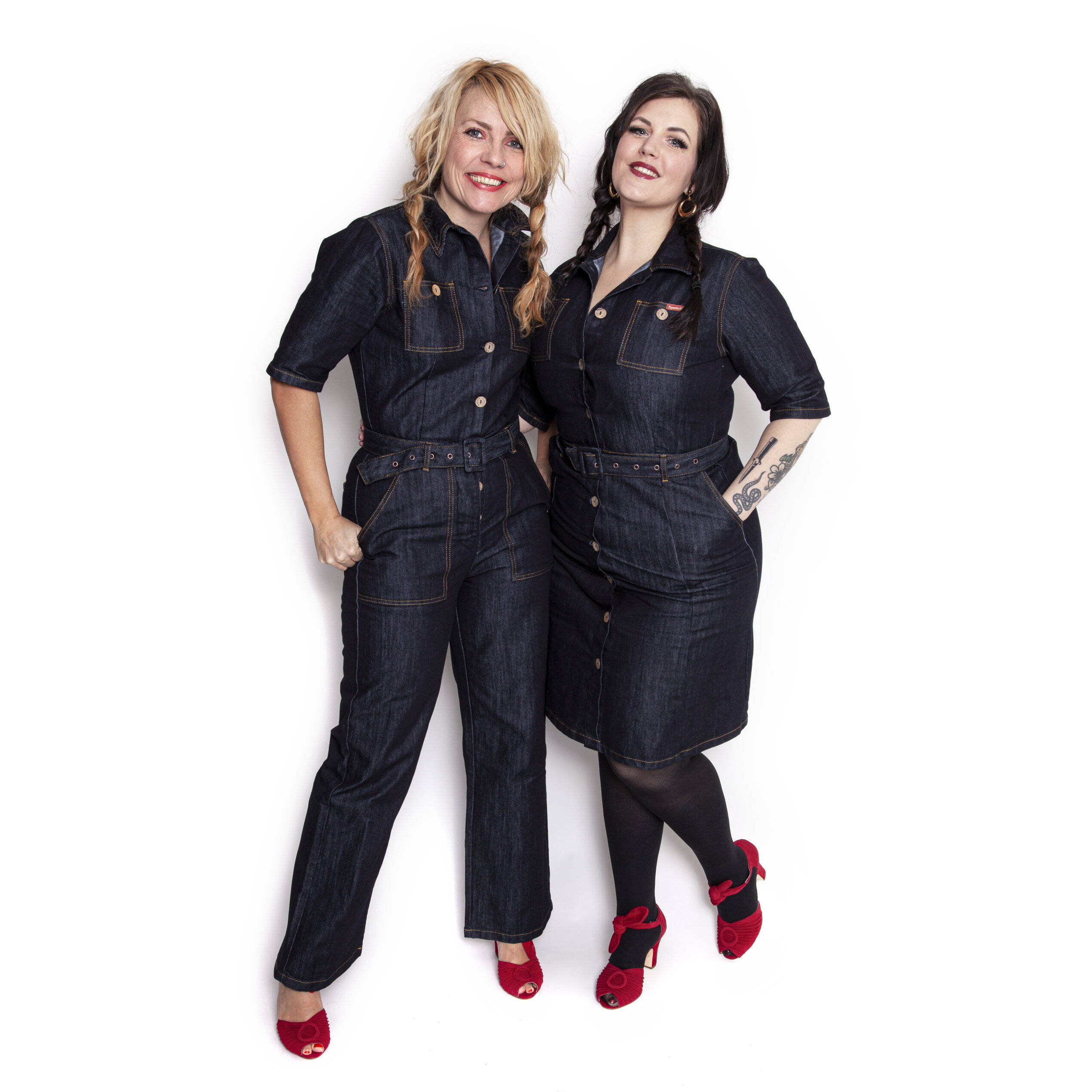 Dorte in 'Rosie the Riveter' jumpsuit!
"Dress my age - I do not think so!"
Dorte shows a really classic Rosie the Riveter denim trouser suit which we are super excited about. Dorte is a cool woman as you can read from the following, and we think she and the trouser suit are a perfect match. "I'm A Mess - musician, songwriter and artist - also known as Dorte Hartmann - all-around woman with way too much iron in the fire!
Everything I do is within the music world, whether it is on stage, as a power woman behind the stage or in front of the stage as an enthusiastic music lover. I love everything that dares to be different, a little too much, variegated, loud and noisy. Both in people, music and clothes.
I'm in my mid - thirties and some have thought I should "dress to my age". I do not think so, I just get more and more confident in my style with mini-skirts, dresses, tie blouses and trashy t-shirts. A good mix of retro, but I always think as an artist that I should wear something that the main characters in "Clueless" would wear.
I use sizes 40-42, and most often buy recycled or a few high-quality cases. I have tried to be shamed in a shop on Strøget, where they obviously do not wear jeans in my size. Big thighs can not hide. It made me not wear jeans for over a decade. Now you have me in a trouser suit, I had not seen it coming, but I love it! I feel most comfortable when I think I have something particularly unique on, which may scream a little in the room. I do not really feel with the fashion trends - but love when I can steal a little from the girlfriends and shops look and can combine it with my own "
Festival style and cool retro T-shirts
Another new brand i Mondo Kaos is the already mentioned Electric West, who of course make their T-shirts in LA under orderly conditions, with a special love for retro style T-shirts. Not as we have otherwise seen them in pinup style with tattoo style girls, but more festival-cool. Think Woodstock 69 and rodeo chic!
We have taken 3 styles home; two are in the classic feminine fit, which sits up to the body, but we also have choice one in a classic unisex shape; that is, straight up and down in 'gentleman' style. It is suitable for tying in front, or you can buy it a size smaller and get it down in the bottom for a more fit look. The colors are the burnt yellow and brown tones associated with time in the late 60s and early 70s.
1970s style with velvet and sway!
To stay in 1970s style we got a super nice halterneck pantsuit home. It is in charcoal gray denim and has the completely iconic 70s sway at the bottom. Also, there are amazing miniskirts in velvet. These are real short mini skirts, and ideal for ladies who like to show off their legs. They are both perfect with the new T-shirts, as well as our new western shirts.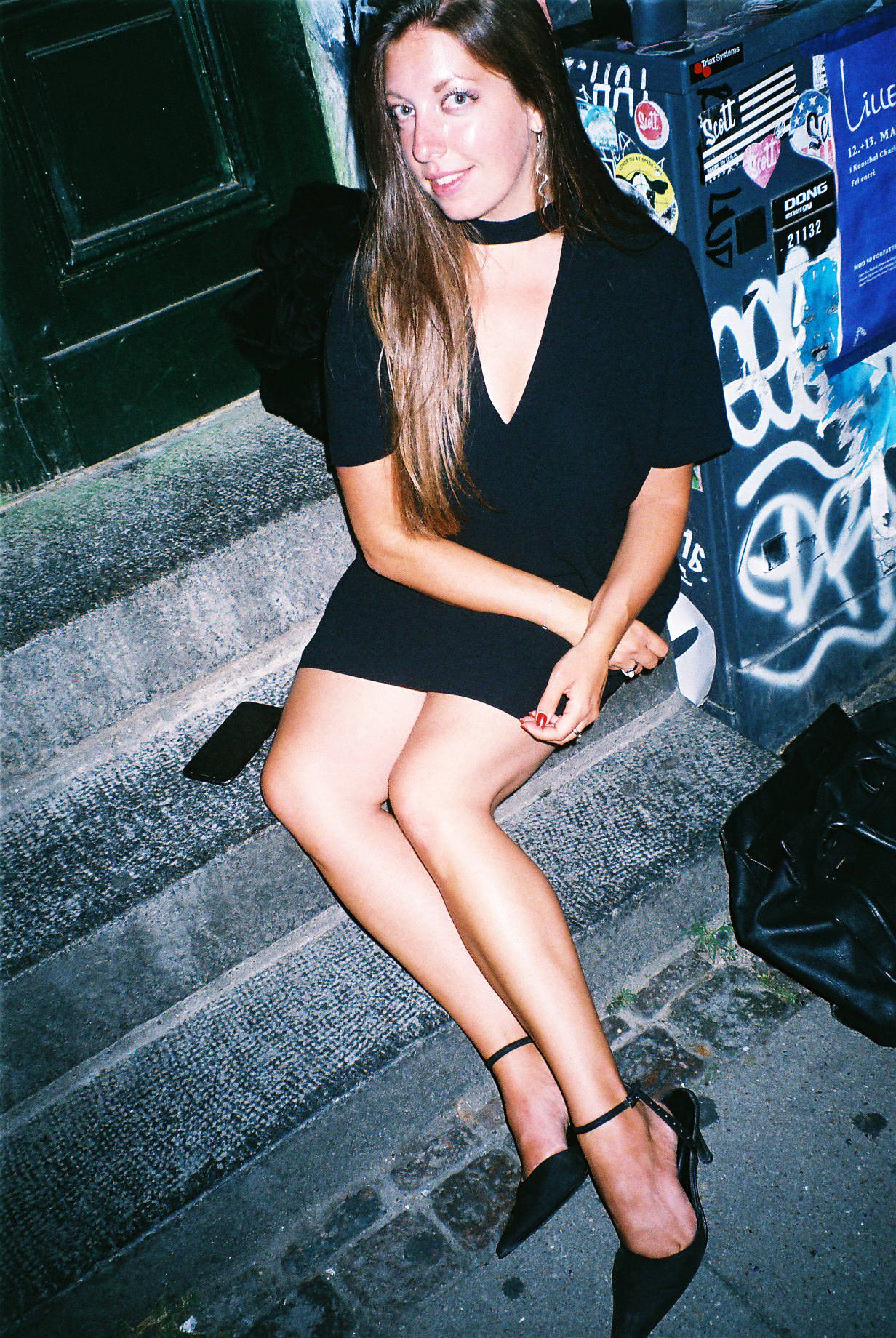 "I THINK IT'S GREAT THAT THE FASHION INDUSTRY IS STARTING TO USE WOMEN WHO ARE NOT JUST A SIZE 34"
This time we will also go behind the camera and ask a little about Nadia, who is photographing the beautiful pictures.
Here's what Nadia herself says: "My name is Nadia Von Rikka and I am 31 years old. My path into the photography industry has been pretty convoluted, I have been working with photography since I was around 18 years old, but I have also worked as a sosu helper and have an education as an occupational therapist.
I love working with people, which is why my career has always been marked by meeting people. I think it's great to hear stories from real life and meet people who have something on their mind.
But I also love working with a creative process, being impulsive and creating a visual narrative, which is why the job as a photographer has over time become what I am really passionate about. "
Something that cannot be mistaken for Nadia's style is her positive view of the female body and her sincere tenderness for the women who come in front of her lens. She herself says "Women are so beautiful, why do we have to change them?", And that is exactly the approach we love, and we think it shines through in every single picture.
After taking pictures for 3 different Mondo shoots, Nadia thinks she has come closer, she is e.g. glad we even want the natural beauty to shine through, without retouching.
More than pure perfection, Nadia will create images with a strong expression, images that express power, joy and personality.
"There is always a good atmosphere on the set when we shoot pictures and that is really important, because it must be fun and nice"
"I think we women are incredibly good at finding fault with ourselves and it's such a shame. I know it from myself, and really try to remind myself to talk nicely about my body, and only mention it as I would refer to my girlfriend. I experience women's critical approach to themselves a lot when I have them in the studio. They see things by themselves that I do not notice at all. I think it's cool that the fashion industry is starting to use women, who are not just a size 34. There must be room for everyone, both different body types, ages and nationalities. The ideal of beauty is changing just as quietly and that is a fantastic development. "
Go west -with country and western as inspiration
And now that we have promised to 'go West' - we end with the beautiful Western style. Western style is something we have only occasionally had in the store, but each time our selection has been torn away, so we decided to present you with a few more things. We have brought home two classic Western shirts in black and red, which go great with all the beautiful denim. And if you just love the Western style, we have an absolutely formidable Western pantsuit that we absolutely love.
If you love the rodeo / western style, but want it in a slightly more subdued version, there is the option of either wearing the beautiful new Rodeo Queen T-shirt or our brand new knit with horses from Unique Vintage.
Either way, we hope there is something for all vintage lovers out there and that you will welcome our new Western / 70s collection.
Yeehaw and peace from
Team Mondo Kaos
---